Comprehensive Train the Trainer programs for complete training for aspiring and experienced trainers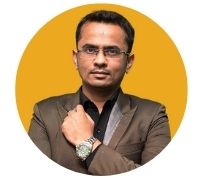 Mihir Shah – India's Expert Corporate Trainer
Yatharth Marketing Solutions' comprehensive 'Train the Trainer' program is designed to provide the requisite skills that will shape participants into effective trainers. Whether you are just starting out, or have some experience, you can benefit from understanding the latest instructional skills that can improve your sessions. We ensure that all our participants understand the various training processes, planning your lessons, mastering the latest training techniques, leverage numerous visual aids for training, and even learn the evaluation of your training methods.
YMS's ' Train the Trainer' program is one of the most sought after in Ahmedabad, Mumbai, Bangalore, Pune, and even Dubai due to the focus on well-rounded personality development. Being a trainer is more than just having professional-looking presentations. We help and motivate each participant to develop their own relaxed and natural style of communication, to perfect your coaching methods. It is our firm belief that when we empower you with the techniques for continuous improvement, you will learn how to always be improving your skills and influence. Master of Public Speaking and Presentation When addressing a group of people, you have to learn how to make your point to multiple people and personalities. Our program will equip you with the best and most effective techniques to master this crucial skill.
How much does it cost for Train the Trainer Programs?
For 4 Days
Platinum
Time : 32 Hours
Understanding Training and facilitation
Preparing for the workshop
Getting off on right foot
Dealing with difficult participants
Certificate For Participation
Feedback And Execution Plan
For 5 Days
Rhodium
Time : 40 Hours
Understanding Training and facilitation
Preparing for the workshop
Getting off on right foot
Dealing with difficult participants
Certificate For Participation
Feedback And Execution Plan
For Corporate Train the Trainer in India