THE BEST GUIDE FOR YOUR IPO JOURNEY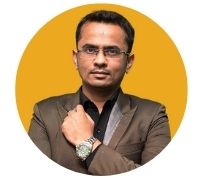 Mihir Shah – India's Expert Sales Trainer
Initial Public Offerings are a gamechanger when it comes to raising capital for companies that have greater growth ambitions to become leaders in their markets. It is also very useful to help shareholders with the best alternatives to increase liquidity in their holdings.
The journey from a private company to IPO requires several multitrack strategies which include understanding the listing options in specific markets, as well as evaluating mergers and acquisitions opportunities that improve the valuation for shareholders.
With Yatharth Marketing Solutions IPO Services , you are assured of being in safe, capable hands. We bring our extensive expertise to bear on preparing you for the most seamless route to public offering and also ensuring that your IPO has a strong game plan for the way forward with sustainable growth.
How much does it cost for IPO Services?
Gold
Time : For 3 Month Minimum
IPO structure involvement
Involvement as director - INR 99,999 / month / Director
Minimum IPO size - INR 10 CR
Diamond
Time : For 3 Month Minimum
IPO structure involvement
Involvement as director - INR 1,99,999 / month / Director
Minimum IPO size - INR 25 CR
Platinum
Time : For 3 Month Minimum
IPO structure involvement
Involvement as director - INR 2, 99,999 / month / Director
Minimum IPO size - INR 50 CR
Rhodium
Time : For 3 Month Minimun
IPO structure involvement
Minimum IPO size - INR 100 CR
For Corporate IPO Services in India