"YMS Sales Objection Management Training- Your Guide to Mastering the Valuable Skill Of handling With Sales Objections and Increase Sales."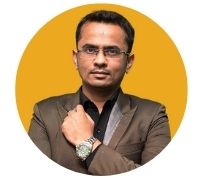 Mihir Shah – India's Top Sales Trainer
Experiencing a sales objection can be a scary incident. During this training, participants will learn how to remove the objection and drive through to get that sale. Also, the best quality services or items can be curved down, and training for how to beat these rejections will be of great advantage.
Objection Handling Training is an important element of the sales procedure, as it will open up an entire innovative set of opportunities. It will create new sales and offer an ongoing relationship with new clients. Objections will always happen no matter the thing being sold or presented.
If you are a salesperson, then you are very aware that you will meet objections; after all, the consumer is not just some buzz, they want to achieve more knowledgeable decisions. Though, this is nothing to fear about; our sales training programs will assist you to expect and decrease these objections and turn you into a more successful, more trustworthy salesperson.
Not only that, you can also unite this session with our other training sessions and assist you to become the excellent salesperson every company looking.
How much does it cost for Objection Handling Training Programs?
For 1 Day
Platinum
Time : 8 Hours
Introduction to Objection
Identify the source of objection
Overcoming common objections
Objection Handling Techniques
Post and Pre Training Assessment
Certificate For Participation
Feedback And Execution Plan
Added Cost / Additional Person - 1000
Up to 70% Growth Assurance
For 2 Days
Rhodium
Time : 16 Hours
Introduction to Objection
Identify the source of objection
Overcoming common objections
Objection Handling Techniques
Post and Pre Training Assessment
Certificate For Participation
Feedback And Execution Plan
Added Cost / Additional Person - 500
Up to 70% Growth Assurance
For Objection Handling Training in India