Discover the key topics that will make a real impact during your sales training seminar, giving you the tools to revolutionise your team's success.
Don't leave it to chance—master the art of training by focusing on the right areas and optimising your efforts.
We've got you covered with an exclusive list of 11 game-changing topics to incorporate into your training program, along with expert tips to ensure your training is nothing short of extraordinary.
Completely read this article & get ready to unleash your team's full potential!
Building Authentic Connections: The Art of Rapport in Sales Training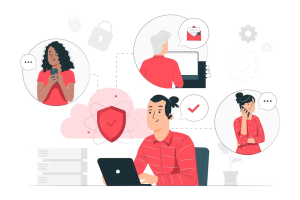 Developing rapport and nurturing customer relationships in Training Topics for Sales Team holds the key to unlocking the gates of successful business engagements.
When it comes to sales training, the art of building rapport and initiating meaningful conversations with potential leads is paramount in forging connections with customers.
Nurture a company culture where team members hone their conversational prowess, exuding genuine interest in the thoughts and opinions of others.
Engaging in light-hearted banter and inquiring about the customer's day can serve as a powerful catalyst to kickstart a conversation.
Moreover, encouraging the team to uncover shared interests with customers cultivates an environment brimming with authentic connections.
Mastering Objection Handling: Empowering Sales Teams to Navigate Customer Rejections with Confidence
In the realm of sales, it is a customary practice for salespeople to undertake the arduous task of cold calling or sending a multitude of emails on a daily basis.
Thus, it becomes imperative for a salesperson to embrace the possibility of encountering customer rejections or objections, and equip themselves with the aptitude to respond in a fitting manner.
During sales training sessions, it is prudent to engage in brainstorming exercises that delve into the myriad reasons a potential customer might decline a sale.
By doing so, sales teams can gain valuable insights and devise effective strategies for navigating such situations.
Furthermore, leveraging sales training as an opportunity to simulate diverse scenarios enables employees to refine their communication skills and adapt their responses based on whether they are engaging with customers over the phone or face-to-face.
Remember, a proficient salesperson going through Training Topics for Sales Team understands the significance of anticipating objections and objections, and views them as opportunities to showcase their expertise and forge stronger connections with customers.
One of the best ways to learn Objection Handling is through Spin Sales Training.
Unleashing the Power of Questions: Enhancing Sales Proficiency Through Strategic Inquiry
The realm of successful salesmanship thrives on the art of asking targeted questions that unveil the unique needs and desires of potential leads.
This skill from Training Topics for Sales Team not only lays a sturdy foundation for a robust working relationship with the customer but also paves the way for a seamless sales process.
Hence, it would be highly beneficial to conduct a dedicated sales training workshop centered around the development of precise and insightful questions to pose during sales interactions.
Consider orchestrating an engaging activity during the workshop where employees are compelled to communicate and respond to one another solely through the medium of questions.
This kind of sales training activities serves as a catalyst for honing their ability to ask friendly, open-ended questions while narrating a story or delivering a sales pitch.
By partaking in this interactive session, team members can practice the art of crafting questions that elicit meaningful responses and foster a sense of connection with their prospects.
Remember, a salesperson armed with the prowess to extract pertinent information through skillful questioning is poised to navigate the sales landscape with finesse and establish fruitful partnerships with customers right from the outset.
Competitive Intelligence: Empowering Sales Teams Through Insightful Analysis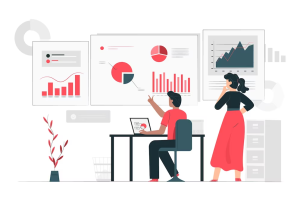 In order for organisations to preserve and leverage their competitive edge within their industry, it is crucial for them to maintain a vigilant awareness of their competition.
Sales training serves as a valuable opportunity for organisations to engage in introspection and evaluate how they stack up against their rivals.
A highly effective approach entails delving into the sales strategies employed by competitors and understanding the tactics that enable them to achieve their sales objectives.
By conducting thorough research and analysing the latest developments within the industry, organizations can curate informative presentations during sales training sessions, enlightening employees about the intricacies of their competitors.
This empowers leaders to effectively communicate industry trends that may exert an influence on future sales endeavours.
Remember, sales training & Training Topics for Sales Team encompasses a comprehensive understanding of the competition enables organisations to proactively adapt their approaches, identify potential gaps, and capitalise on emerging opportunities.
By staying attuned to the actions and achievements of their rivals, organizations can position themselves strategically in the marketplace and sustain their competitive advantage.
Unleashing the Power of Digital Presence: Elevating Sales through Online Marketing
In today's digital landscape, the realm of Training Topics for Sales Team has expanded to include online platforms, where numerous prospective sales leads are generated through networking and social media channels.
Thus, a dedicated sales training session that emphasizes the significance of online marketing can greatly enhance the sales team's social media presence.
One vital aspect of this training is to encourage the sales team to leverage business social media accounts and professional email addresses when engaging in networking activities and communicating with potential leads.
By utilizing these professional channels, organizations' sales teams can reinforce their credibility online while aligning themselves consistently with the sales objectives of their organization.
It is crucial to underscore the importance of maintaining a strong and authentic online presence.
Sales training should emphasize the need for the sales team to actively engage with their target audience, share relevant content, and participate in meaningful conversations within their industry.
This cultivates a positive perception of the organization and establishes trust with potential customers.
Remember, a well-executed sales training session after understanding Direct Sales vs Inside Sales & focusing on online marketing equips the sales team with the tools and strategies to effectively navigate the digital landscape.
By embracing the power of social media and maintaining a professional online persona, organizations can unlock a wealth of opportunities and expand their reach to a wider pool of potential customers.
The Power of Active Listening: Enhancing Sales Effectiveness through Customer Engagement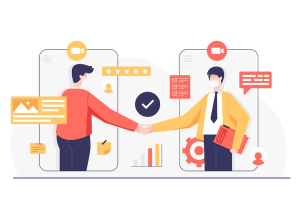 Maintaining attentiveness to the expressed needs and desires of prospective customers can serve as a catalyst for sales teams in identifying and addressing customer requirements.
Hence, dedicating a significant portion of sales training to developing and honing the team's listening skills is an invaluable investment.
A highly effective workshop activity to reinforce this skill is to pair up members of the sales team, allowing them to take turns as speakers and listeners.
During this exercise, it is crucial to emphasize the significance of the listener's role in actively focusing on the speaker and genuinely absorbing the information being shared.
Encouraging the listener to summarize and reiterate what they have heard in their own words when it's their turn to speak fosters a deeper level of engagement and comprehension.
Through such sales training initiatives, organizations can remind their sales teams of the pivotal role listening plays in customer interactions.
By actively listening and comprehending customer needs, sales professionals can tailor their approach, offer relevant solutions, and build trust and rapport with customers.
Remember, sales training that emphasizes the art of active listening empowers sales teams to effectively uncover customer pain points, demonstrate empathy, and provide personalized solutions.
By placing a heightened emphasis on listening skills, organizations can elevate their sales team's performance and forge enduring customer relationships.
Potential of Proactive Lead Generation: Maximising Sales Opportunities in the Digital Age
A hallmark of successful sales teams lies in the proactive nature of their salespeople when engaging with customers.
Sales training presents a prime opportunity to enhance the sales team's capacity to identify and capitalize on sales leads.
In today's digital landscape, organizations often discover sales leads through avenues such as social media and email networking.
Therefore, utilizing sales training to review the essential data that contributes to transforming a lead into a potential customer is of utmost importance.
During the training session, it is crucial to delve into the intricacies of lead generation through online platforms.
Emphasize the significance of leveraging social media channels and networking through professional email communications to uncover potential customers.
By providing insights and guidance on effective strategies for online lead generation, sales teams can enhance their ability to identify and engage with prospects in a meaningful way.
In addition, sales training should encompass a comprehensive understanding of the key indicators that contribute to a lead transitioning into a qualified customer.
This includes analyzing data such as customer engagement, purchase history, demographics, and specific pain points.
By equipping the sales team with the knowledge and tools to interpret and leverage such data effectively, organizations can optimize their sales efforts and drive conversion rates.
Remember, sales training that highlights the importance of proactive lead identification and data-driven decision-making enables sales teams to seize opportunities, nurture relationships, and maximize their chances of converting leads into loyal customers.
By staying attuned to the digital realm and equipping salespeople with the necessary skills, organizations can achieve remarkable sales success.
Strategic Lead Prioritization: Maximizing Sales Productivity and Success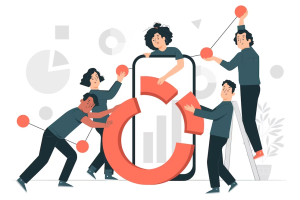 Once a sales team understanding Training Topics for Sales Team has mastered the skill of identifying sales leads, it becomes imperative to dedicate a sales training session to educate them on the art of prioritising promising leads.
While maintaining regular communication with customers throughout the sales process is vital for nurturing professional relationships, focusing on sales opportunities with the highest potential can help maximise sales outcomes.
During this training session, encourage team members to adopt a systematic approach in evaluating customers' specific needs, aligning them with your organization's sales goals and deadlines.
By assessing the potential value and feasibility of each lead, sales professionals can make informed decisions about prioritization.
Consider introducing tools and techniques that aid in projecting revenue growth and establishing criteria for prioritizing sales leads.
By effectively prioritizing sales leads, sales teams can allocate their time and resources strategically, maximizing their sales productivity and closing deals that have the greatest impact on organizational success.
Remember, sales training that empowers sales teams to prioritize leads based on a combination of customer needs, organizational goals, and revenue projections enables them to work smarter and achieve higher sales conversions.
By focusing efforts on high-potential opportunities, organizations can optimize their sales performance and drive sustainable growth.
Crafting Compelling Pitches: Elevating Sales Presentations for Success
Sales training serves as a valuable platform for sales teams to hone their sales pitches and enhance their presentation skills, which are crucial for engaging and persuading potential customers. '
A well-crafted sales pitch centers around showcasing specific details that highlight the unique benefits the customer stands to gain from the sale.
To refine their pitches, it is beneficial to incorporate practice sessions where team members rehearse and receive feedback.
Encourage the sales team to actively engage in rehearsing their sales pitches aloud, allowing them to fine-tune their delivery, clarity, and persuasiveness.
By practicing and revising their pitches based on Training Topics for Sales Team & constructive feedback, sales professionals can elevate their communication skills and effectively convey the value proposition to customers.
Additionally, consider incorporating exercises where the sales team develops well-informed mock presentations by conducting in-depth research on a specific topic.
This approach allows them to demonstrate their expertise, maintain credibility, and speak with confidence during the sales process.
By delving into comprehensive research, sales professionals can address potential customer concerns, position themselves as trusted advisors, and build a stronger connection with their audience.
Remember, sales training that emphasizes the refinement of sales pitches and presentation skills equips sales teams with the tools to captivate potential customers and drive successful sales outcomes.
By crafting compelling pitches and delivering them with confidence and credibility, sales professionals can leave a lasting impression, gain customer trust, and achieve their sales goals effectively.
Collaborative Sales Excellence: Leveraging Diverse Perspectives for Success
In the dynamic landscape of sales, it is not uncommon for teams to encounter diverse personality types throughout the sales process.
Each team member brings a unique perspective shaped by their individual experiences.
Acknowledging these differences and fostering collaboration among team members is a key aspect of effective sales training.
Encourage the sales team to embrace a collaborative mindset in Training Topics for Sales Team, seeking advice and insights from colleagues whose expertise or personality traits differ from their own.
By tapping into the diverse knowledge and perspectives within the team, sales professionals can expand their repertoire of sales strategies and approaches.
This collaborative environment allows for the sharing of best practices, problem-solving, and the development of innovative solutions.
Moreover, sales training should emphasize the importance of understanding and effectively working with people of different personality types.
By cultivating awareness of personality traits and communication styles, sales teams can tailor their approach to meet the specific needs and preferences of customers.
This adaptability enhances the team's ability to connect, build rapport, and ultimately achieve their sales goals.
Remember, sales training that promotes collaboration and embraces the diversity of personalities within the team empowers sales professionals to leverage their collective strengths and expertise.
By valuing and utilising the unique perspectives of each team member, sales teams can enhance their effectiveness, foster a harmonious working environment, and drive successful outcomes in their sales endeavours.
Closing with Impact: Mastering the Art of Sales Closure for Lasting Success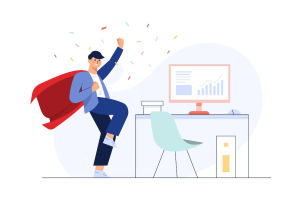 While building rapport is crucial in establishing prospective sales leads, the ability to successfully close a sale is equally important for a sales team.
Closing a sale not only generates profit but also lays the foundation for a lasting professional relationship that can benefit both the customer and the organization.
During sales training, it is vital to encourage the sales team to create a sense of urgency when closing a sale, while also carefully assessing the specific needs of the customer.
This can be achieved by highlighting the unique value proposition of the product or service, emphasizing time-sensitive offers, or presenting compelling incentives.
By instilling a sense of urgency, sales professionals can motivate customers to make timely purchasing decisions.
Additionally, sales training should focus on consistently meeting or exceeding established sales objectives.
By setting clear targets and equipping the sales team with effective strategies and techniques, organizations can drive their profitability and overall success.
Regular evaluation and feedback sessions can also help sales professionals identify areas for improvement and refine their closing techniques.
Remember, sales training that emphasizes the art of closing a sale with a sense of urgency and a customer-centric approach enables sales teams to achieve their sales objectives while nurturing long-lasting professional relationships.
By striking a balance between profitability and customer satisfaction, organizations can thrive in the competitive marketplace.

Conclusion
In conclusion, effective Training Topics for Sales Team play a pivotal role in shaping the success of sales teams. By focusing on areas such as building rapport, identifying and prioritizing sales leads, refining sales pitches, working with diverse personalities, and mastering the art of closing a sale, sales professionals can elevate their performance and drive remarkable results.
Sales training provides valuable opportunities for skill development, fostering a collaborative environment, and enhancing the team's ability to adapt to the ever-evolving sales landscape. Equipped with comprehensive training, sales teams can confidently navigate customer interactions, establish strong relationships, and maximize sales potential.
Ultimately, the success of a sales team is rooted in continuous improvement, adaptability, and a customer-centric approach. By investing in effective training, organisations can empower their sales teams to excel, achieve their sales objectives, and contribute to the long-term growth and profitability of the organisation.