It is crucial to decide between direct sales vs Inside sales as the best sales approach for your business.
When you hear the word sales, your imagination will drive you to the profits. People want to do startups but they may get confused about whether direct sales will give the best success in sales or inside sales.
Of course, everybody wants to touch the height of success with consistently increasing sales. But, all this becomes true if you choose the right selling approach for your business.
In this blog, we have explained the in-depth information of direct sales vs Inside sales. So you can better understand and decide which approach will lead you to a successful business.
What Are The Basic Types Of Sales?
To sell your product, you will adopt different types of techniques and try to generate revenue. That unique technique to reach customers comes under types of sales.
Here, we did the sales classification on some basic parameters such as how will you contact the customer, what are the tools and technology used for it, what is the medium of contacting the customer, and so on.
So, the basic four types of sales are:
Inside Sales
Outside Sales
Direct Sales
Indirect Sales
Let's define all the sales types listed above.
1. Inside Sales
Inside Sales is the well-known process of selling your product using communication tools such as phone, email, or online from the office rather than face-to-face meetings with clients.
2. Outside Sales
Outside Sales is the process of selling your product by meeting people personally. In which you have to conduct face-to-face meetings and need travel to reach them.
3. Direct Sales
Direct selling is a non-retail setting in which the product is sold directly through the parent company to the consumers without any retail partners.
4. Indirect Sales
Indirect Sales are done in a retail environment; the product is sold by a third-party organization such as an affiliate or partner.
Let's do the quick comparison of sales types.
Quick Comparison between Inside Sales vs Outside Sales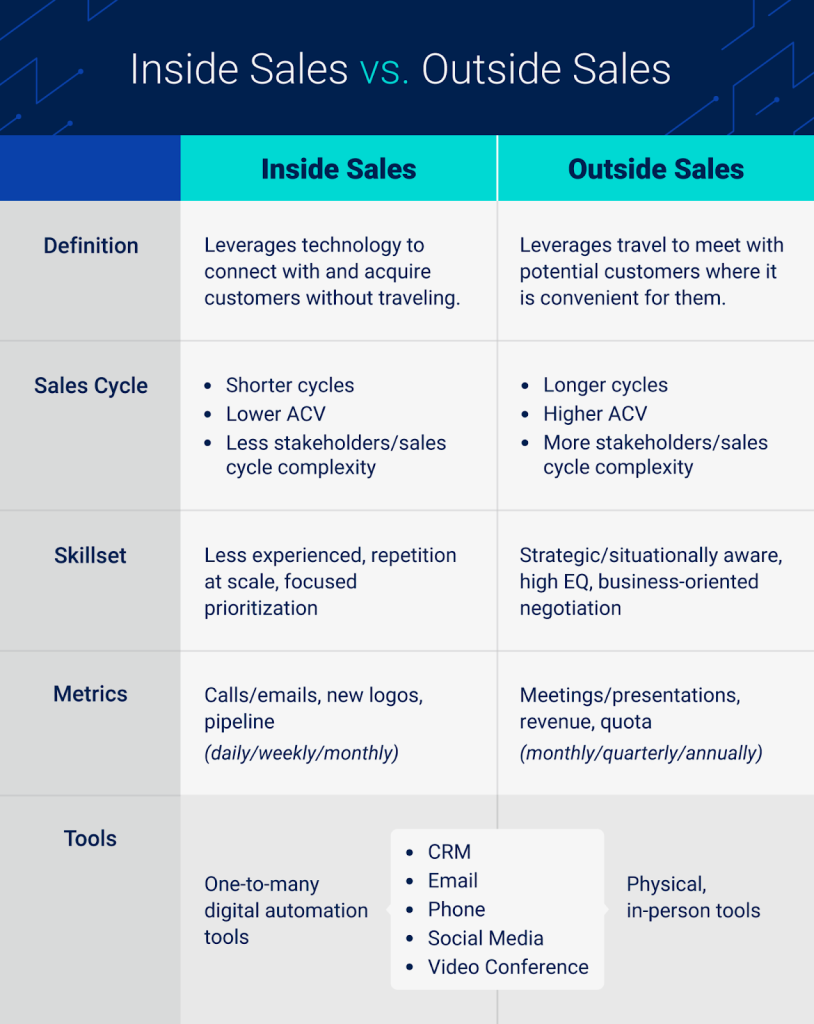 In this comparison chart of Inside Sales vs Outside Sales, we have compared both sales types considering the parameters such as definition, sales cycle, skillset, metrics, and tools. Have a look at that:
Quick Comparison between Direct Sales vs Indirect Sales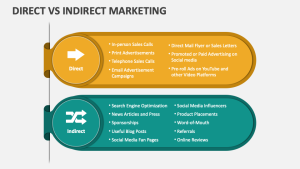 This comparison chart of Direct Sales vs Indirect Sales includes the method of selling, a platform of selling, and the number of people involved in selling. Understand the ways of selling for both techniques and find out the difference:
In-depth Comparison of Direct Sales vs Inside Sales
To give you the right guidance between direct sales and inside sales we cover all the aspects of comparison.
This in-depth comparison includes the understanding of sales, the pros and cons of sales, and the skills required for sales. Continue reading to know more facts about direct sales vs inside sales.
Understanding Direct Sales
The main parent company is selling goods or services in-person or through face-to-face meetings with the consumer, this process of selling products is known as direct sales.
The direct sale includes visits at customers' place, door-to-door sales, office visits, visits at local businesses, and retail sales.
To sell anything, contacting customers directly has proven more effective than any other sales technique. Hence, direct sales can generate more impactful results.
As the salesperson makes direct contact with customers with the intensity of personal connection and the ability of impactful soft skills such as good communication skills, good leadership qualities, creativity, confidence, positivity, emotional intelligence, etc. will increase the chances of converting possible leads into real sales outcomes.
The sales rep will prepare the presentation and catalog of the product, share visual aids and collateral, build interpersonal connecting effects, and make an effective pitch. All these help them to highly influence their consumers on product purchasing decisions.
In the past days, businesses are getting high revenue with direct sales but the increasing impact of new tools and technology and change in buying methodology has led to more focus on choosing between direct sales vs inside sales.
List of points to keep in mind for Direct Sales
Perform in-person sales call and meetings
It will print advertisements
Do telephonic sales calls
Also runs email advertisement campaigns
Send direct mail flyer or sales letters
Do Product promotion
Also dp paid advertising on social media
Perform pre-roll ads on youtube and other video platforms
For a better understanding of the Direct sales channel, check out this image: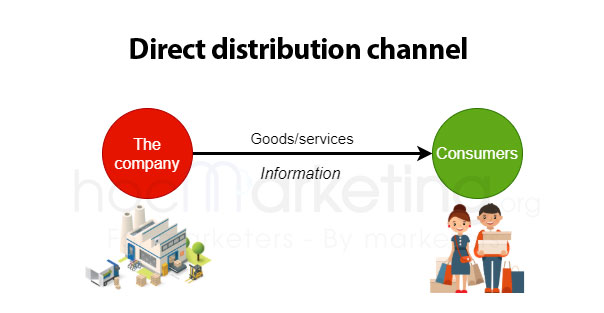 Pros and Cons of Direct Sales
Pros:
The parent company can directly contact the consumers and know their needs effectively. They get the chance of understanding the ground reality of their products with the customers.
The direct sales performed in the non-retailer environment, the production company does not have to set up a shop for selling their product. A lot of money will be spent on a shop setup and maintenance but the direct sales approach reduces all this cost for you.
By not involving any retailer or shopkeeper, you can save a lot of money in mediator fees and exempt retailer charges. This will increase your profit margin more than indirect sales. Most new or small entrepreneurs prefer this.
Customer Response and Satisfaction
This is the most important factor for any business. You can maintain and innovate in your product after getting a real report of customer response and satisfaction that will lead you to customer loyalty.
Cons:
Difficult To Being Sales Representative
In direct sales, you have to face more negative responses from your customers, you require impactful communication and presentation skills, and sometimes you may lose hope, so in terms of being positive and excited every day, it is quite difficult to be a sales representative.
Cost of Customer Acquisition
Whether you are reaching out online or through retailers, both ways cost money to find customers. You have to do efficient work to maintain a connection with them. This direct sales technique bears all the meeting costs with customers.
When you decide to sell your product on your own, that means you are giving competition to your retailers as well as e-commerce websites. Sometimes it may have a negative impact on your business relationships.
Sending products to an individual customer after the deal is quite difficult than sending a product palette to retailers. You have to develop professional delivery skills as a manufacturer and handle all the shipment details on your own.
Skills Required For Direct Sales
The skills required for direct sales include:
Building relationships and establishing rapport with customers is important in direct sales.
Salespeople should be friendly, approachable, and skilled in active listening to understand customer needs and preferences.
A thorough understanding of the product or service being sold is necessary to answer customer questions, address concerns, and effectively communicate the benefits and features.
Resilience and Persistence
Sales can be challenging, with rejections and setbacks. Direct sales professionals need resilience and persistence to overcome obstacles and maintain motivation in order to achieve sales targets.
Direct sales often involve negotiation to reach mutually beneficial agreements. Sales professionals should be skilled in negotiating terms, pricing, and closing deals.
Follow-up and Customer Service
Following up with customers after a sale, providing excellent customer service, and building long-term relationships are critical for repeat business and referrals.
Related: 9 Tips to Improve Sales Efficiency
Now, let's compare all the same parameters taken in Direct Sales with the Inside Sales for a better understanding of Direct Sales vs Inside Sales.
Understanding Inside Sales
Inside sales is nothing but a virtual selling job for product sales. You can use communication tools such as phone, email, chat, text, or social media from seating in the office rather than live meetings with consumers.
It's a very efficient technique for sales. The production company will acquire a sales team to talk to and maintain connections with clients.
The company employee or sales reps can connect with customers from any location to anywhere. In fact, they can switch the customer within a minute without travelling and changing their location.
In Inside sales, the entire sales procedure is managed from only one common location. The sales reps do not need to go anywhere or to any customer. The complete deal is done through communication tools.
In the whole process of Inside sales, at first, the company collects the leads from their sources, then distributes them to the sales team, the prioritized leads are filtered by them, and then the sales team performs the sales call on qualified leads, after the period the sales team will take follow-up on the successful calls, and at last the deal get closure.
List of points to keep in mind for Inside Sales
Leverage technology to connect with customers without travelling
Have shorter sales cycle
Lower ACV in sales cycle
Lake stakeholders and sales cycle complexity
Not any extraordinary skills are required
Metrics are calls/emails, new logos, pipeline
DIgital automation tools used are CRM, Phone, Email, Social Media, and Video Conference, etc.
Office employees are involved for product sale
For a better understanding of the Inside sales channel, check out this image: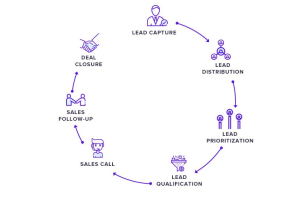 Pros and Cons of Inside Sales
Pros:
With the help of technology and automation, you can quickly connect with your customers. You can contact a large number of customers as compared to direct sales and also you can serve the best customer care service to your consumers before they want to switch with your competitors.
The initial cost of establishing an environment for the Inside Sales process is high but after that, it remains stable. And also there is no travel and meeting charge applied anywhere in the Inside Sales process so, it reduces the cost as compared to direct sales.
Usually, the same procedure and technique are followed by Inside Sales to generate leads. Hence, you can enlarge your team and scale up easily by using the same process again and again.
You will find the perfect environment in your comfort zone. You don't have to struggle with new places every day. And You can sit on your faviourite chair and do your work with great rhythm. This environment positivity will encourage you to work more effectively for your product sale.
Cons:
It is very difficult to understand which lead has the right potential to convert into a deal and which one does not. The salesperson has to understand it on their own with great communication skills.
Day by day it becomes very hard to differentiate yourself from your competitors. You have to reach and communicate more effectively with your product information to build connections and generate leads with potential consumers.
Inside sales is a completely structured environmental process than any other sales type. You have to keep remembering that every call is a new opportunity of generating leads. You have to put the same effort into each call if you are a part of the Inside sales process.
In the Inside sales process, all your work is done at your desk, usually, you are not going to meet your customers. This results in a slow process of generating leads and eventually, it becomes difficult to build great connections with your consumers on call.
Skills Required For Inside Sales
Effective verbal and written communication skills are essential for interacting with potential customers over phone, email, and other communication channels.
Being able to understand customer needs and respond appropriately is crucial. Active listening skills help inside sales professionals grasp customer pain points and tailor their sales approach accordingly.
Thorough knowledge of the products or services being sold allows inside sales reps to effectively highlight features and benefits to potential customers and address any questions or concerns.
Inside sales reps often have to handle multiple leads and tasks simultaneously. Good time management skills help prioritize activities, stay organized, and meet sales targets.
Teamwork and Collaboration
Inside sales often work closely with other teams, such as marketing and customer support. Collaboration skills enable effective teamwork, sharing insights, and providing feedback for overall business success.
It's important to note that the specific skills required may vary depending on the industry, product or service, and target audience of the inside sales role.
Related: 5 Soft Skills Training Programs for Salespeople
Now, understand which sales approach you have to adopt for your business.

Direct Sales vs Inside Sales: Choosing the Right Sales Approach for Your Business
When it comes to sales, there are two main approaches: direct sales and inside sales.
Direct sales involves face-to-face interactions with potential customers, often through in-person meetings or product demonstrations.
This approach can be effective for building personal relationships and trust with customers, but it can also be more expensive and time-consuming.
Direct sales is often used for selling higher-priced items or products that require in-person demonstrations.
It may be best suited for businesses with a smaller customer base or those selling more complex products or services.
With the great sales training program, you can develop the sales skills in your team members to generate leads from Direct Sales.
On the other hand, Inside sales involves connecting with customers with the help of communication technology such as chat, call, text, social media, etc.
This approach is effective for the small products or the daily use products. Also, this approach is beneficial for IT firms who provide services with digital marketing, software, apps, etc.
You can find the right customer just by sitting on the same chair everyday in the Inside sales procedure.
If your business belongs to SAAS, or IT firm, or a complete B2C type then it is a good idea to adopt Inside Sales strategy to enhance sales number.
There are a lot of sales consulting services available in the market to generate several positive leads with the best Inside Sales techniques. You can contact them and make your product sale easy.
Conclusion
In conclusion, the choice between direct sales and inside sales depends on various factors specific to your business.
Direct sales can be effective for complex or high-value products that require personalized demonstrations and relationship-building with customers.
On the other hand, inside sales offer scalability, cost-effectiveness, and efficiency for businesses focused on lower-value or transactional products.
It's essential to consider your target market, product characteristics, customer preferences, and available resources when determining which approach is best for your business.
Ultimately, a well-balanced sales strategy that combines elements of both direct and inside sales may offer the most comprehensive solution, enabling your business to reach a wider audience, maximize revenue, and adapt to changing market dynamics.
HAPPY SALES!! 😃💸
Frequently Asked Questions (FAQs)