Implementing cold calling sales techniques can be a daunting task for sales professionals. It can be a most useful and powerful method for generating more and more positive leads and closing deals.
With unique sales tricks, you can enhance sales revenue by connecting with several numbers of consumers and convincing them on call.
People usually ignore this type of promotional or sales calls, In fact, You and I do the same thing when we receive any call from anyone who wants to make us buy their product.
That's why learning, evolving, and implementing cold calling sales techniques in your sales cycle is crucial.
In this article, We will explore 16 proven tips and examples to help you master the art of cold calling.
From preparation to execution, these strategies will enhance your approach and increase your chances of success.
Let's Explore and Develop!!
What Is The Cold Calling Meaning In Sales?
Cold calling is an outreach technique or methodology in which sales professionals try to seek business from customers with whom they don't have any contact on call before.
One of the most annoying and depressing activities salespeople, and especially novice reps, have to deal with is cold calling.
According to research from LinkedIn, 63% of sellers claim that cold calling is the most difficult aspect of their work.
Additionally, the strategy only converts at a rate of about 2%, and cold calling often requires a salesperson to make 18 or more calls before reaching a tech prospect.
Although cold calling has a very low success rate, it can nonetheless be a beneficial strategy for connecting with new contacts, making it a popular outreach strategy despite its subpar conversion rate.
For salesmen, the phone continues to be an immensely popular tool.
A RAIN Group study found that 70% of sellers use the phone to interact with buyers and set up appointments, making it the second most common outreach strategy after email.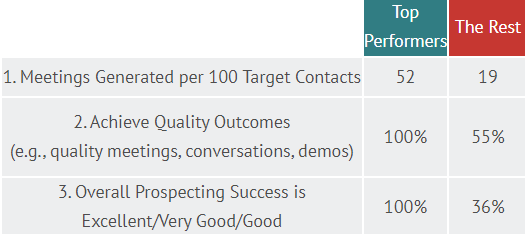 As per these parameters, let's see the bar chart of top performers and other's outcome ratio by RAIN Group study research.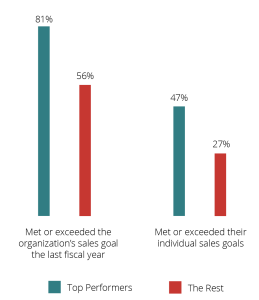 Moreover, according to research from Sales Insight Lab, 41.2% of sales representatives believe that their phone is their most efficient sales tool.
Undoubtedly, a number of sales organizations see benefit in using phone calls as a proactive outreach strategy, and cold calls are one of the most basic, uncomplicated types of that type of communication.
Why Is Cold Calling Done By Sales Professionals?
Cold calling remains an essential sales technique despite the rise of digital marketing strategies.
It enables direct communication with potential customers, allowing sales professionals to build relationships, gather information, and drive sales.
However, to achieve success in cold calling, one must employ effective cold calling sales techniques that engage prospects and deliver positive results.
So, Now, We will see the top 16 cold calling sales tips.
16 Proven Cold Calling Sales Techniques
Here, we have listed the successful cold calling sales techniques for you to boost your sales revenue, have a look:
Let's dive into all of them!!!
1. Understanding Your Target Audience With Research
Before making any cold call, it is crucial to understand your target audience. Research their industry, pain points, and needs.
This knowledge will help you tailor your pitch to their specific challenges and position your product or service as a valuable solution.
2. Optimize Your Calling Schedule
The best strategy to quickly start obtaining results from cold calling is to maintain a regular calling schedule.
However, how many phone calls are necessary? When should they be made, too?
Don't just make calls and cross your fingers. If you adopt that strategy, you'll rapidly observe unsatisfactory results week after week.
Instead, reverse-engineer a calling plan to assist you achieve your sales goals by starting with them.
You can determine exactly how many calls you need to make to reach your sales goals using our cold call spreadsheet, which is based on your monthly quota, average deal size, connect rate, and conversion rate.
There is no "best time" to call, although there are some basic suggestions. According to numerous research, response rates are often highest in the early morning or late in the day.
As per the HubSpot Research: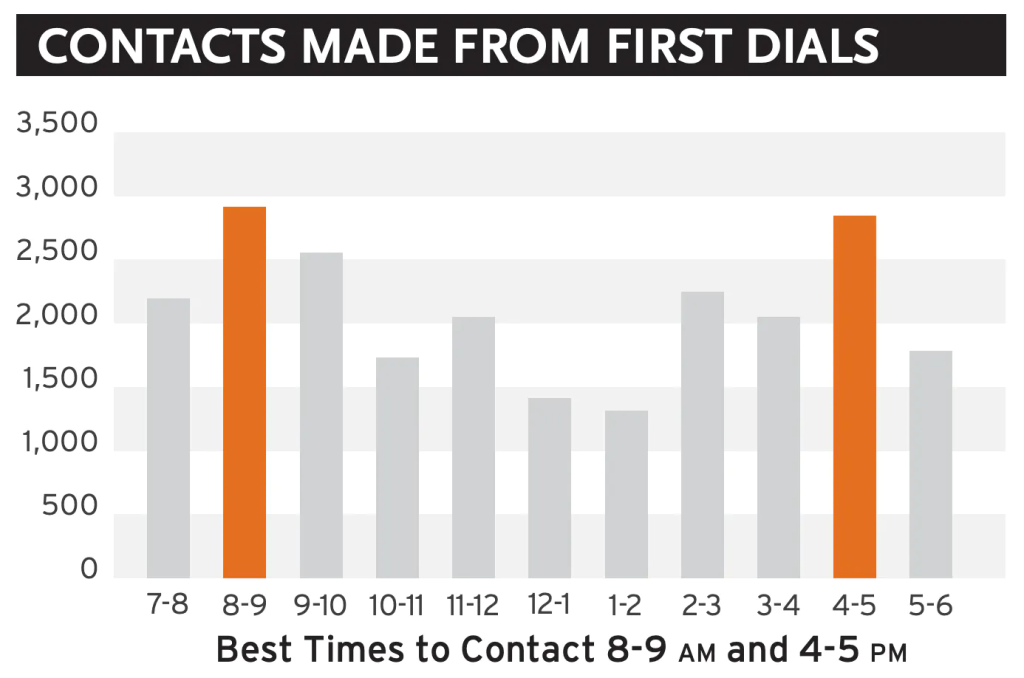 By Zippia Research: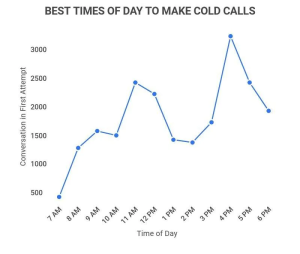 We looked at nearly 25,000 sales calls in our own study on the ideal time to make cold calls and discovered that the bulk of them take place on Tuesdays or Thursdays from 3:00 to 5:00 pm.
This corroborates the assertions made above that cold calling should be done in the late afternoon or around the conclusion of the workday.
Studies like this can be used to guide your own testing of particular hours and days. The only way to determine what is most effective is to adopt a data-driven strategy.
Compile a spreadsheet in Excel or Google Sheets to record the volume of responses you receive during the day. You may place calls at the times when you'll receive the best results by figuring out when you're getting the best response rates.
3. Crafting an Engaging Opening Statement
The opening few seconds of a cold call are essential. Craft an opening statement that grabs the prospect's attention and conveys the value you can provide.
State a compelling benefit or ask a thought-provoking question to pique their interest.
Save your product pitch for later, and start with some engaging dialogues.
4. Personalization is Key
Personalization plays a vital role in cold calling success. Use the prospect's name and reference any relevant information you gathered during your research.
This shows that you've done your homework and establishes a connection from the start.
This cold calling sales technique will impress your prospect and they might agree to pay attention to your talk.
5. Building Rapport and Trust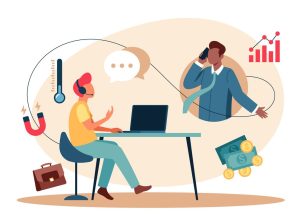 Building rapport and trust is essential in cold calling. Be friendly, confident, and approachable.
Engage the prospect in a conversation rather than delivering a monologue. Must concentrate on developing a good relationship based on faith and common understanding.
If you build a trustworthy relationship with your customer, then every time they will come to you and show customer loyalty for the long term.
Also, you can get more referral customers if your existing customer will trust your product and service completely. This is how you can enhance your sales rate.
6. Asking Open-Ended Questions
Asking open-ended questions encourages prospects to share more information and helps you uncover their pain points.
This approach allows for a deeper conversation and demonstrates your genuine interest in understanding their needs.
Your questions will make your customers think and that will engage them and they don't get bored with your product conversation.
With this, they may also find out that they need your services. Through this, you can convenience more and more users for your product just on call.
7. Active Listening
Active listening is a crucial skill in cold calling. Pay attention to the prospect's responses, ask follow-up questions, and show empathy.
By actively listening, you can gather valuable insights and tailor your pitch accordingly.
If you listen to your customer precisely, then they feel good to share their thoughts, and you will get a clear picture of your customer's mindset.
This cold calling sales technique will help you to understand the correct state of mind for that particular time.
8. Watch Your Tone of Voice
Your tone of voice matters the most for successful cold calling. Your exciting and friendly tone will create interest in the prospect's mind to listen further.
Not only your words, but your voice tone is also a major aspect which can define the success rate of your cold call.
The customer will try to determine whether they have to trust in your talk or not by considering your voice tone. So, keep the following things in your head while you start talking:
Keep your volume appropriate so that you sound assured.
Keep a proper pace.
Use self-assured body language.
9. Overcoming Objections
Objections are inevitable in cold calling. Be prepared to give answers to some common objections.
Address objections with confidence, providing evidence and testimonials to support your claims.
Turn objections into opportunities to showcase the value of your product or service.
This will represent your confidence in your product and also enhance confirmation and trust in the customer's mind.
For creating a positive impact on your services you have to overcome every objection smartly.
10. Highlighting Benefits and Solutions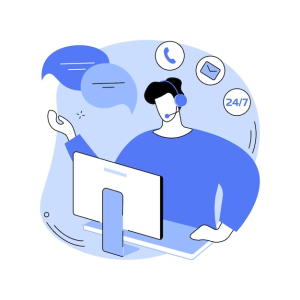 Concentrate on the comprehensive advantages and solutions your product or service provides to your valuable clients.
Explain how it solves the prospect's pain points and improves their business.
Paint a vivid picture of the positive outcomes they can expect by choosing your solution.
Make sure your customer will completely believe in your product's features and understand that all the offered benefits are served for their convenience.
11. Creating a Sense of Urgency
Creating a sense of urgency compels prospects to take action. This one is one of the best sales psychology tips to convert any prospect into a closed deal.
Communicate limited-time offers, exclusive deals, or upcoming deadlines to motivate them to make a decision.
Emphasize the consequences of inaction to encourage prompt action.
12. Following Up Effectively
Not all prospects will convert during the initial call. Must develop a proper follow-up schedule time table to enhance leads.
Send personalized emails, schedule follow-up calls, and provide additional resources to keep the conversation going and maintain interest.
There are such possibilities that from your 100 calls, may 3 to 4 prospects have changed their point of view regarding your product and probably they need your product.
That means taking follow-up is not a waste of time. It's a chance of getting positive leads.
13. Leveraging Social Proof
Social proof is a powerful persuasion tool.
Share success stories, testimonials, and case studies to demonstrate the positive results your product or service has delivered to others in similar situations.
This builds credibility and trust in your offering.
If people see your social presence, then they can estimate your reach and you will earn their consideration.
Getting positive customer attention is good for converting prospects into closed deals.
14. Take Rejections Positively
Let's be real here. The rejection that comes with cold calling makes the majority of us detest it.
Successful cold-call salespeople are aware that rejection is a necessary step in the sales process.
And they are aware that the majority of their peers will be reluctant to pick up the phone.
Because of this, they view rejection as a chance to improve and differentiate themselves. You can also experience the benefits of it.
It might be challenging to contact prospects when many calls go to voicemail.
The most effective cold-call sales people keep trying until they connect, frequently six times or more.
Exercise responding to criticisms:
More cold calls can help you become more adept at changing a no into a yes.
Make practice calls with a different sales team member. Have them raise sales objections, and then work to                  continue the conversation and get a yes.
Use rejection to spur you on. When you finally get a prospect on the phone just to be ignored, it's quite normal to feel defeated.
Allow rejections to spur you on to make more calls.
You don't want to be one of the 44% of sales representatives who quit after receiving the first no.
Making sales through cold calling is a numbers game that requires constant contact with prospects.
15. Ask For Referrals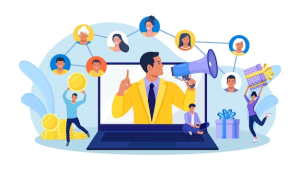 Ask your lead for a recommendation if you close a deal, secure a signup, or receive an opt-in via a cold call.
There are a lot of possibilities of getting positive prospects from your existing customer because mostly they will refer only those persons who are actually in need of your similar product.
So, never miss a chance of asking for referrals.
For Example,
"You should receive your first issue of Software Monthly next week." In addition, for each friend you mention, we will deduct $10 from your monthly subscription. "Do you know anyone else from your contacts who would benefit from our services?"
More potential customers who might be interested in your product or service may respond to your request.
16. Continuous Learning and Improvement
Cold calling is an ongoing learning process.
Continuously evaluate your performance, analyze call outcomes, and identify areas for improvement.
Seek feedback from colleagues and mentors to refine your approach and enhance your cold calling skills.
Let's see the cold calling sales script examples to understand better.

Cold Calling Sales Script Examples
Example 1: Cold Calling Sales Script for a Software Product
Introduction:
Hello, [Prospect's Name]. This is [Your Name], and I'm calling from [Your Company]. I hope I'm not connecting with you at a bad time.
I wanted to talk to you about a software solution that can greatly benefit your business.
Opening Statement:
I noticed that your company is in the [Industry] industry, and I wanted to share some exciting news with you.
We have recently developed a cutting-edge software product specifically designed for businesses like yours.
It streamlines your operations, enhances productivity, and increases overall efficiency.
Identifying Pain Points:
Are you currently facing any challenges with managing your [specific process related to the software]? Many businesses in your industry struggle with [specific pain point].
Our software is designed to address these pain points and provide you with a seamless solution.
Value Proposition:
Our software offers a wide range of features that can greatly benefit your company. It includes [feature 1], which can [explain the benefits of feature 1]. Additionally, it offers [feature 2], which can [explain the benefits of feature 2].
Our clients have seen significant improvements in [specific metric] and have reported [positive outcomes] after implementing our software.
Next Steps:
I would love to schedule a time to provide you with a personalized demo of our software.
This will give you a better understanding of how it can specifically benefit your company.
Does [date and time] work for you? Alternatively, I can send you more information and answer any questions you may have via email.
Closing:
Thank you for your time, [Prospect's Name]. I believe our software can make a significant difference for your business.
I look forward to hearing from you soon. Have a great day!
Example 2: Cold Calling Sales Script for a Life Insurance Policy
Introduction:
Good morning/afternoon, [Prospect's Name]. My name is [Your Name], and I'm calling from [Your Company]. How are you today?
I wanted to speak with you briefly about an essential financial product that can provide security and peace of mind for you and your loved ones.
Opening Statement:
I noticed that you currently don't have a life insurance policy in place, and I wanted to share some important information with you.
Life insurance is crucial for protecting your family's financial future in the event of an unexpected tragedy.
Identifying Needs:
Have you ever thought about what would happen to your family's financial stability if something were to happen to you?
Life insurance ensures that your loved ones are financially protected and can continue to maintain their standard of living, even in your absence.
It's a way of providing a safety net for the people who matter most to you.
Value Proposition:
Our life insurance policies provide full coverage in your budget. We have a range of options tailored to meet different needs and budgets.
With our policies, your family would receive a lump sum payment in the event of your passing, which can be used to cover funeral expenses, outstanding debts, mortgage payments, and provide ongoing financial support.
Next Steps:
I would be happy to schedule a time to discuss our life insurance policies in more detail and answer any questions you may have.
We can also provide you with a personalized quote based on your specific requirements.
Does [date and time] work for you? Alternatively, I can send you some additional information via email.
Closing:
Thank you for your time, [Prospect's Name].
Life insurance is an important financial planning tool, and I believe it's worth considering to protect your family's future.
I look forward to hearing from you soon. Have a wonderful day!
Conclusion
In conclusion, cold calling can be a valuable tool in your sales arsenal when executed with the right techniques.
By following the tips and examples outlined in this article, you can enhance your cold calling abilities, build meaningful connections with prospects, and ultimately drive sales success.
Mastering cold calling requires a combination of preparation, effective communication, and perseverance.
By understanding your target audience, crafting engaging opening statements, building rapport, and leveraging proven techniques, you can turn cold calls into successful sales opportunities.
HAPPY COLD CALLING!!
Frequently Asked Questions (FAQs)