The challenger sales training is meant to convert impossible sales into closed deals. With proper guidance and the right strategy according to the author of "The Challenger Sale", Brent Adamson and Matthew Dixon, anybody can raise the sales and improve the business growth.
This blog will explain everything about the challenger sales and its training, as we already mentioned in the title. The different methodologies, and the challenger sales model, You will know every insight regarding this.
Let's Start!!
Overview of The Challenger Sales Training
The Challenger Sales Training is all about teaching the salespeople behaviour for dealing with challenging sales. The training teaches how you have to take control of the sale and guide prospects to positive decisions.
According to "The Challenger Sale" authors, developing relationships is the least successful method for closing deals when it's about top-performing sales representatives.
They contend that salespeople who take charge of a transaction and show their buyers methods of solving their problems are more effective than those who invest a lot of time in developing a rapport with their lead.
The challenger sales training teaches facts like this and helps you to build confidence for making maximum positive deals.
What Is The Challenger Sales Method?
The Challenger Sales Method is a methodology that motivates and encourages salespeople to exceed their strengths and drive their thinking to new heights.
It focuses on challenging customers' preconceived notions and providing insight to drive commercial outcomes. Here are the key principles and concepts of the Challenger Sales methodology:
Key principles and concepts of the Challenger Sales methodology
According to the CEB (now part of Gartner) research, the Challenger sales representatives consistently outperformed their peers in terms of sales results. The methodology suggests that successful salespeople should act as Challengers, who bring a unique perspective to the customer and actively push them out of their comfort zone.
Let's dive into the key principles;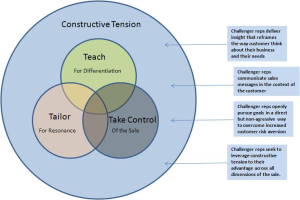 1. Teach for differentiation
Challengers educate their customers about new possibilities, industry trends, and potential problems they may not be aware of. They offer unique insights and perspectives to help customers see their own businesses in a new light.
2. Tailor the message
The reps tailor their sales messages to specific customer needs and priorities. They demonstrate a deep understanding of the customer's business and industry and customize their recommendations accordingly.
3. Take control of the sale
The salespeople are assertive and take control of the sales process. They are not afraid to challenge customers' assumptions and push back when necessary. They guide customers through the decision-making process and lead them to the most effective solution.
4. Build constructive tension
The Challengers create a sense of urgency and tension by highlighting the risks and missed opportunities if the customer doesn't take action. They provoke customers to reevaluate their current strategies and consider alternative approaches.
5. Offer commercial insight
Sales representatives help customers understand the potential financial impact of their solutions. They connect their recommendations to the customer's bottom line and demonstrate how their offerings can generate value and return on investment.
6. Collaborate internally
The salesperson works closely with marketing, product development, and other internal teams to gather the necessary insights and data to support their sales approach. They collaborate across departments to ensure they have the most relevant and up-to-date information to share with customers.
The Challenger Sales methodology emphasizes the importance of salespeople taking a proactive, assertive, and value-driven approach to selling.
By challenging customers' thinking, providing unique insights, and helping them navigate complex decision-making processes, Challengers are more likely to build trust, drive customer engagement, and ultimately win the sale.
Understanding The Challenger Sales Model
The Challenger sales model is a framework used for persuasive communication and problem-solving.
It consists of six steps: Warmer, Reframe, Rational Drowning, Emotional Impact, A New Way, and Our Solution. Let's break down each step: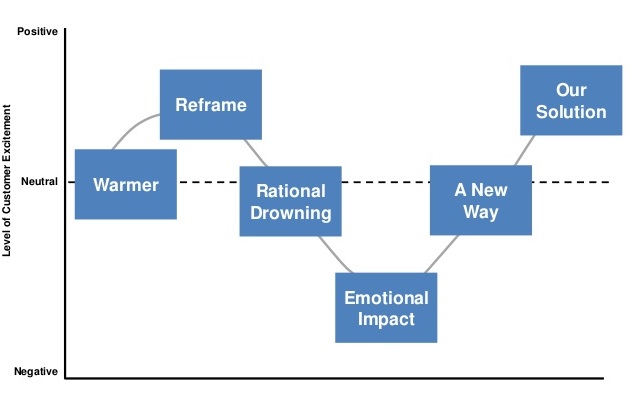 1. Warmer
The Challenger aims to establish rapport and build a connection with the audience or the person they're trying to persuade.
They seek to create a positive and open atmosphere by showing empathy and understanding towards the audience's perspective or challenges.
2. Reframe
Here, the salespeople introduces a new perspective or reframe the problem at hand. They challenge the existing assumptions, beliefs, or ways of thinking about the issue and highlight the limitations or shortcomings of the current approach.
This step encourages the audience to reconsider their preconceived notions and be open to alternative viewpoints.
3. Rational Drowning
In this phase, the reps present data, evidence, or logical arguments to demonstrate the inadequacies or failures of the current solution or approach. They use facts, statistics, research findings, or logical reasoning to show that the existing method is ineffective or insufficient.
This step aims to create a sense of urgency and make the audience realize the need for a change.
4. Emotional Impact
Here, the Challenger appeals to the emotions of the audience. They tell stories, use vivid language, or provide examples that evoke emotions such as empathy, fear, hope, or excitement. By connecting with the audience on an emotional level, the Challenger aims to create a deeper understanding of the problem and elicit a stronger desire for change.
5. A New Way
The salesperson introduces a fresh perspective or a new solution to the problem. They propose an alternative approach or method that can address the shortcomings of the existing solution. The new way should be innovative, compelling, and offer clear benefits over the current approach. The Challenger highlights how this new way can lead to better outcomes or results.
6. Our Solution
The sales reps present their own solution or recommendation. They provide details about their proposed solution, its benefits, and how it addresses the issues identified earlier. The Challenger focuses on the unique value and advantages of their solution, aiming to convince the audience that it is the best option available.
By following the Challenger sales model, communicators can effectively challenge the status quo, reframe problems, and propose alternative solutions that resonate with their audience and drive change.

Does The Challenger Sales Model Work?
Yes, Absolutely!
We can say that the challenger sales model works in terms of proper challenger sales training and guidance. The sales reps who are working on themselves and nourish their nature with challengers qualities. Then, it's very tough to stop them from achieving success.
With the product knowledge, confidence, and any situation handling capabilities, the salesperson can sell the product in any type of environment with anybody.
Of course, this model asks for a lot of self improvement for approaching people, but it will result in a success and high business revenue within a short period of time.
It's important to note that the Challenger Sales model suggests that the Challenger profile is the most effective and successful in today's selling landscape, as they have the ability to deliver valuable insights, drive customer engagement, and shape customer decision-making. However, the other profiles can also be successful in specific contexts and industries.
Also, another important thing to mind is while the Challenger Sales Model has been widely adopted and has proven successful in many sales organizations, it may not be the best fit for every situation or industry. Adaptation and customization are crucial to align the model with the specific needs and dynamics of each sales context.
The Five Profiles of Salespeople For Challenger Sales
The Challenger Sales model, developed by Matthew Dixon and Brent Adamson, describes five distinct profiles that salespeople can adopt to effectively sell in today's complex business environment.
Each profile represents a different approach to sales and has its own strengths and weaknesses. Here is a description of the five profiles: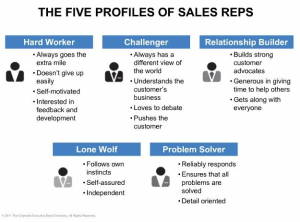 1. The Challenger
Challengers are assertive, confident, and skilled at pushing customers out of their comfort zones. They have a deep understanding of their customers' industries and businesses and are adept at challenging their customers' preconceived notions and assumptions.
The Challenging salesperson engages customers in constructive debates, educate them on new insights, and present unique perspectives that lead to new solutions.
They are great at teaching customers and tailoring their offerings to fit specific needs. Challengers tend to excel in complex sales environments where customers need help in identifying and solving problems they might not be aware of.
2. The Relationship Builder
Relationship Builders prioritize building and nurturing strong relationships with their customers. They focus on establishing trust, rapport, and long-term partnerships.
Relationship Builders are skilled at listening to customer needs, empathizing with their challenges, and providing ongoing support. They excel at customer service and are highly responsive to customer requests.
They often work well in industries where customers value personal connections and where the sales cycle is long-term and relationship-driven.
3. The Hard Worker
Hard Workers are known for their persistence, diligence, and willingness to put in the effort required to succeed. They possess an exceptional work ethic and are highly self-motivated.
Hard Workers are relentless in their pursuit of sales targets and are willing to go the extra mile to meet customer needs. They may not possess the same level of natural talent as other profiles, but they compensate through sheer effort.
Hard Workers thrive in environments that require significant prospecting, follow-up, and attention to detail.
4. The Lone Wolf
Lone Wolves are independent, self-assured, and often operate by their own rules. They are highly self-reliant and are driven by their desire for personal success. Lone Wolves are excellent at building their personal brand and are often charismatic and influential.
They prefer to work alone and may resist collaborating with other members of the sales team. While they can be high performers, they can also be difficult to manage and align with organizational objectives.
5. The Problem Solver
Problem Solvers focus on analyzing customer challenges and finding solutions to specific problems. They are adept at diagnosing customer pain points, conducting thorough research, and presenting tailored solutions.
Problem Solvers are consultative in their approach and excel at providing expertise and guidance. They are patient, detail-oriented, and committed to finding the right solutions for their customers. They are effective in technical sales environments or when customers have complex, specialized needs.
The Challenger Sales Training Process
Overview of the steps involved in the training process:
1. Assessing and selecting Challenger candidates
Not every candidate can be a challenger salesperson by taking the challenger sales training; that's why you find a potential candidate whose ready to improvise and push himself to be a great challenger salesperson if you are providing challenger sales training to your employees.
And, if you are a salesperson and willingly want to learn about challenger sales methods for becoming a good salesperson, then you have to push your potential and believe in yourself that you can learn it and implement it in your sales field.
2. Classroom training and learning the methodology
After selecting an appropriate challenger candidate for the challenger sales training, the next step is to give proper classroom training to teach the challenger sales methodology.
Make sure to hire the best expert who can give training on all the sales methods such as SPIN Sales Training, SNAP Sales Training, Conceptual Sales Training, Customer-Centric Sales Training, Value Added Sales Training, and The Challenger Sales Training.
So, candidates can understand everything about sales with an intro to all the sales methodologies having emphasis on "The Challenger Sales Training."
3. Application and practice in real-life sales scenarios
Practical learning is always more effective than any bookish knowledge. You won't understand the techniques properly until you implement them in real-life sales scenarios.
With application and practice you will face all the hurdles and challenges to convince people, and learn how you can overcome all the problems and take the situation in your hand with the challenger's sales training experience. Although, practice makes a man perfect also implied here.
4. Ongoing coaching and reinforcement
An environment where performance is genuinely motivated is produced via ongoing coaching. You can reinforce and enhance the alignment of a sales representative's actual performance with expectations.
Ongoing coaching raises the likelihood of a challenger's performance by giving them prompt feedback, acknowledgement, clarity, and support.
Now, checkout all the major benefits of taking the challenger sales training;
Benefits of The Challenger Sales Training
1. Improved sales performance and results
With proper implementation of the challenger sales training, the sales performance rate and revenue increase. Sales representatives can enhance their skills with challenger sales techniques and generate more positive leads day by day.
2. Enhanced customer interactions and engagement
As per the key principle of the challenger sales methods, relationship building is on high profile on the skills of sales representatives. Challengers can become effective talkers & listeners, then enhance the customer interaction and engagement which leads to the positive results.
3. Increased sales team effectiveness and collaboration
Enhancing the qualities from the challenger sales training in the nature of the sales representatives can increase the team work abilities. With the positive collaboration of the sales team, you can do effective work with your sales team. Good team work generates more results than an individual person.
Conclusion
In conclusion, the Challenger Sales methodology has emerged as a highly effective approach to sales, revolutionizing the way organizations engage with customers and drive revenue growth.
This method emphasizes the importance of insight-led conversations, challenging customer assumptions, and providing unique perspectives to differentiate oneself from competitors.
By focusing on teaching sales professionals to become effective challengers, this methodology equips them with the skills and knowledge to engage customers in a thought-provoking manner.
The Challenger Sales approach encourages salespeople to understand their customers' businesses deeply, identify areas of improvement, and offer valuable insights that drive change and create value.
By providing new insights and challenging existing beliefs, salespeople can position themselves as trusted advisors, gaining the customer's attention, respect, and ultimately, their business.
Furthermore, the Challenger Sales methodology has proven effective across various industries and sales scenarios. Its structured approach provides a framework for sales teams to follow, ensuring consistency and success.
This methodology also encourages collaboration within organizations, as sales teams work together to develop and share insights, strategies, and success stories.
However, it is important to note that the Challenger Sales training is not a one-size-fits-all solution. Each organization and sales team may need to adapt and customize the methodology to suit their unique needs and customer base.
Additionally, ongoing training, coaching, and reinforcement are crucial to ensure the continued success and adoption of the Challenger Sales method.
Overall, the Challenger Sales methodology has demonstrated its effectiveness in transforming sales teams into high-performing, customer-centric forces.
By empowering sales professionals with the skills and mindset to challenge customers and provide valuable insights, organizations can drive meaningful conversations, build stronger relationships, and ultimately achieve sustainable sales growth in today's competitive business landscape.
Frequently Asked Questions (FAQs)