Conceptual Selling is a strategic approach to sales that focuses on understanding and addressing the unique needs and challenges of customers. 
Unlike traditional sales methods that rely on scripted pitches and product-focused selling, Conceptual Selling prioritizes building strong relationships with clients and presenting solutions tailored to their specific requirements.
And, this makes it important to learn about conceptual selling. In this blog, we will learn every aspect and perfect methodology of conceptual selling. So you can enhance your sales revenue by implementing this method. 
Let's Begin!!
What is Conceptual Selling?
The idea of conceptual selling is developed by Robert Miller and Stephen Heiman to close the enterprise deals in a more effective way. 
Conceptual selling is all about selling the concept rather than the product. 
Conceptual selling is a method of selling that puts the requirements and wants of the consumer before the qualities and advantages of the good or service. 
In other words, it's not just about selling people anything; it's about fixing their problem.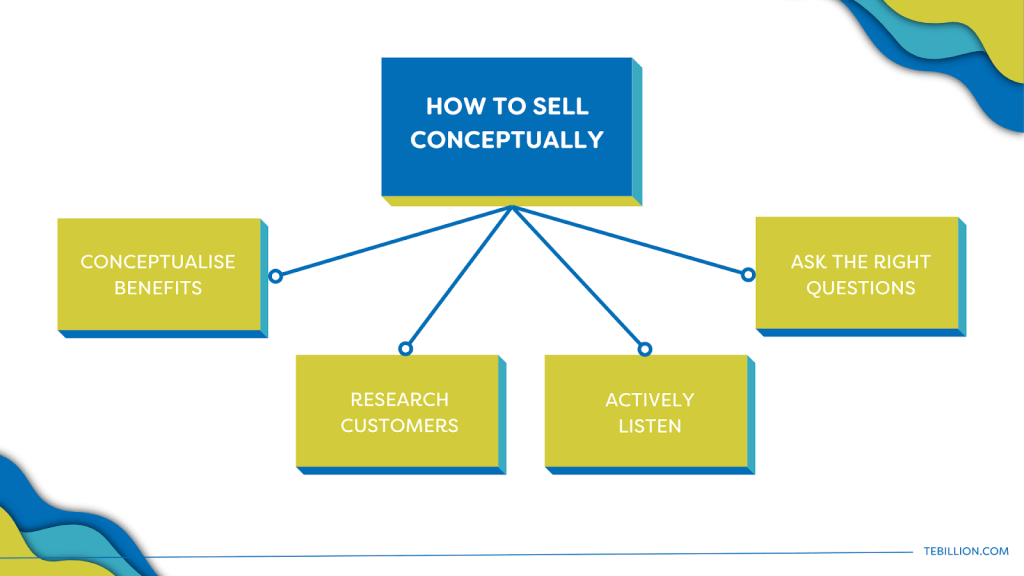 This sales strategy is predicated on the idea that buyers are solely interested in a product or service's ability to address their problems, not its features or specifications.
The salesman learns more and more about the client's requirements, preferences, and issues as the transaction develops. 
Using this data, you can customize your sales process to each individual consumer and make sure the proposed solution meets their needs.
Understanding the Conceptual Selling Process
To completely understand the selling methodology, Let's see some of the important aspects on which conceptual depends.
Identifying Customer Needs and Pain Points
In Conceptual Selling, the first step is to identify the customer's needs, pain points, and goals. 
This requires active listening and asking insightful questions to gain a deep understanding of what the customer truly requires.
Creating a Vision
Once the needs are clear, the salesperson collaborates with the customer to create a compelling vision of how the proposed solution will address those needs and lead to desired outcomes.
Customizing the Solution
Conceptual Selling emphasizes the importance of tailoring the solution to fit the customer's unique situation. 
This involves presenting the product or service as a customized answer to their challenges.
Getting Buy-In from Stakeholders
In many cases, decision-making involves multiple stakeholders. 
Conceptual Selling involves identifying and engaging with all key decision-makers, addressing their concerns, and gaining their buy-in.
Now, we will see the top benefits any company gets by implementing conceptual selling in their regular sales procedures. 
Benefits of Conceptual Selling
Conceptual Selling offers numerous benefits, such as establishing trust with customers, enhancing the value of the solution, and increasing customer loyalty. 
It allows sales professionals to position themselves as problem solvers rather than mere sellers.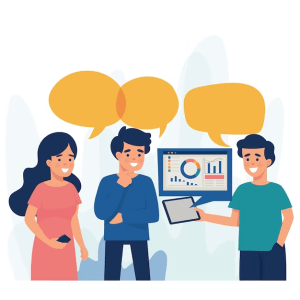 Here, we have elaborate the conceptual selling benefits:
Customer Understanding 
The first demand of conceptual selling is to understand your customer better. If you don't reach your customer's demand then it's impossible to close a deal through the conceptual technique.
You will get to know about your customers, who they are, what are their needs, and with which problem they are struggling currently, all this helps you to provide better service to the customers. 
And ultimately you will get the customer trust, customer loyalty, and a long term customer relationship with better services.
Highly Efficient Sales Cycle
If you implement the conceptual selling methodology in the right way, then it will shorten your sales cycle and make it more beneficial and efficient for your salesman.
If you know your customer better, then you can customize or improvise your sales pitch to impress and convince your customer. 
With this technique, your customer can see the value of your product quickly and identify how your product will solve their problems, so they decide to invest in your product faster. 
Higher Average Deal Size
Your business will scale up day by day if you focus on closing larger deals. This can become true with conceptual selling.
Conceptual will help your customer to understand the value of your product and the worth to invest capabilities of your product. 
You can convince your customer faster and create a long-term good relationship with your customer to keep them coming again and again to buy more stuff. 
Like other sales methodologies such as MEDDIC sales methodology, SNAP selling, SPIN sales methodology, etc. Conceptual has to face some challenges while implementing it in front of customers. Let's see:
Common Challenges in Conceptual Selling
Overcoming Resistance
Some customers may be resistant to change or skeptical about new solutions. 
Overcoming this resistance requires effective communication and a thorough understanding of the customer's concerns.
Handling Objections
Addressing objections is an integral part of Conceptual Selling. 
Salespeople need to be prepared to respond to various objections and demonstrate how their solution is the best fit.
Dealing with Competition
In competitive markets, salespeople must differentiate their offering and articulate the unique value proposition of their solution.
The Role of Perplexity in Conceptual Selling
Perplexity, or creating curiosity and interest, is a powerful tool in Selling.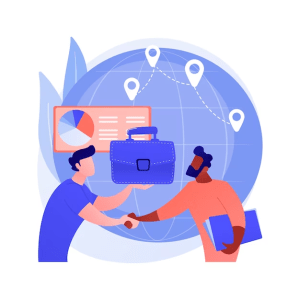 By piquing the customer's interest and leaving them curious, salespeople can generate excitement about the proposed solution.
If you create curiosity in your customer for your product, then they will carefully listen about all the features and benefits offered by your product.
Leveraging Burstiness to Enhance Conceptual Selling
Burstiness, the use of dynamic and compelling language, can capture the customer's attention and keep them engaged throughout the sales process.
Having a customer's data in advance is a great step of climbing close deals. You can customize your approach to reach in the customer's mind. 
This data-driven approach in conceptual will help you a lot to close your sales deal frequently.
The Art of Engaging Customers with Conceptual Selling
Engagement is crucial in Conceptual Selling.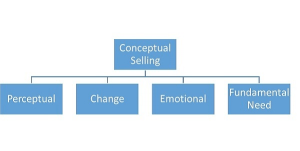 Salespeople should use a conversational style, ask rhetorical questions, and incorporate analogies and metaphors to make the presentation more relatable and compelling.
Conceptual selling is an art of being perceptual, adopting change, connecting emotionally, and serving fundamental needs of customers.
Your customer won't listen to you if they don't feel engaged with you! An interesting conversation is key to great sales success.
If you let your customers speak, you can better understand their core problems, and you will get a better idea to deal with them and convince them to spend their valuable money on your product as their easy and quick solution. 
Making the Transition from Traditional Sales to Conceptual Selling
Transitioning from traditional sales approaches to Conceptual Selling requires a shift in mindset and skill set. 
Proper training with ongoing support are crucial for successful implementation of conceptual selling.
Making the transition from traditional sales to conceptual selling can be a rewarding journey that enables you to build stronger relationships with customers and sell more strategically. 
Conceptual selling focuses on understanding the customer's needs and goals deeply and offering solutions that align with their broader objectives rather than just selling a product or service.
Here are some key steps to help you make this transition:
Educate Yourself on Conceptual Selling
Start by learning about the principles and techniques of conceptual selling. 
There are various books, courses, and online resources available that can provide you with insights and practical tips.
Understand the Customer's Business
Shift your focus from just selling a product to understanding the customer's business and industry. 
Learn about their challenges, market trends, competitors, and long-term objectives.
Ask the Right Questions
Conceptual relies on asking open-ended and probing questions to uncover the customer's underlying needs. 
Understand what outcomes they desire and how they measure success.
Listen Actively
Focus and give complete attention to what your customer is trying to say.
Active listening allows you to grasp their concerns and goals better, which enables you to present relevant solutions.
Identify Value Drivers
Discover the specific ways your product or service can add value to the customer's business. 
Highlight how your offerings can help them achieve their goals.
Customize Your Pitch
Tailor your presentation to address the individual needs of each customer. 
Avoid using a one-size-fits-all approach and instead focus on personalized solutions.
Build Long-Term Relationships
Conceptual is about building trust and long-term relationships with customers.
Be genuinely interested in their success, and demonstrate that you are committed to their well-being.
Collaborate with Customers
Involve the customer in the selling process. 
Co-create solutions and work together to ensure that the proposed concepts align with their vision.
Focus on Benefits, Not Features
While features are essential, emphasize the benefits of your products or services. How will they help the customer achieve their goals?
Handle Objections Gracefully
Be prepared to handle objections, concerns, and skepticism from customers. 
Instead of dismissing objections, address them as opportunities to better understand the customer's perspective and clarify any misconceptions.
Measure Results
As you transition to conceptual track your progress and measure results. 
Look for improvements in customer satisfaction, repeat business, and larger deals closed.
Continuous Improvement
Keep learning and refining your approach. 
Seek reviews from consumers and colleagues to find out points of improvement.
Remember that the transition from traditional sales to conceptual may take time, but with persistence and dedication, you can become a more effective and successful sales professional focused on building lasting customer partnerships.
Integrating Technology in Conceptual Selling
Integrating technology in conceptual selling can significantly enhance the effectiveness and efficiency of the sales process. 
Conceptual selling focuses on understanding the customer's needs and presenting solutions based on those needs, rather than simply pushing products or features. 
By incorporating technology into the sales approach, you can streamline communication, access valuable data, and provide more personalized experiences. 
Here are some ways to integrate technology into conceptual selling:
Customer Relationship Management (CRM) Systems
Utilize CRM software to track and manage customer interactions, preferences, and purchase history.
A good CRM system can help sales representatives understand customer needs better, keep track of conversations, and identify potential opportunities.
Data Analytics
Leverage data analytics tools to gain insights into customer behaviour, market trends, and performance metrics. 
Analyzing data can help identify patterns, anticipate customer needs, and tailor your conceptual approach accordingly.
Personalization
Use technology to personalize your sales pitch and recommendations based on each customer's preferences and past interactions. 
Personalized content and product suggestions are more likely to resonate with the customer and make the selling process more effective.
Virtual Presentations and Demos
Conduct virtual presentations and product demonstrations using video conferencing tools or virtual reality (VR) technology. 
These tools allow sales representatives to showcase products and solutions in an engaging and interactive manner, even if they cannot meet in person.
Online Collaboration Platforms
Collaborate with customers and internal teams using online platforms that facilitate real-time discussions, file sharing, and project management. 
These tools can streamline communication and ensure that everyone involved is on the same page throughout the sales process.
Sales Enablement Tools
Provide sales representatives with access to content repositories, sales playbooks, and other resources that empower them with relevant information and materials to support their selling efforts.
Social Selling
Leverage social media platforms to connect with potential customers, build relationships, and share valuable content that aligns with their interests and needs.
Mobile Apps
Equip sales reps with mobile apps that allow them to access critical sales data, customer information, and product details on the go. 
This enables them to be well-prepared during meetings and have all necessary information readily available.
Interactive Sales Tools
Develop interactive tools such as calculators, configurators, or quizzes that engage customers and help them better understand their needs and the potential solutions you offer.
Artificial Intelligence (AI)
Implement AI-powered chatbots or virtual assistants on your website or in your communication channels to answer customer queries, provide recommendations, and improve customer service.
By integrating technology into the conceptual selling process, you can create a more efficient and customer-centric sales approach, ultimately increasing your chances of success and building stronger relationships with your clients. 
However, it's essential to strike the right balance and ensure that the technology enhances the sales experience rather than overshadowing the human touch and empathy that are crucial in building trust and rapport with customers.
Now, we will learn about the future possibilities of conceptual selling.
The Future of Conceptual Selling
Conceptual is an approach to sales that focuses on understanding and addressing the customer's specific needs and challenges, rather than just pushing a product or service. 
It involves creating a solution tailored to the customer's unique situation and presenting it in a way that aligns with their goals and vision.
Looking ahead, several trends and developments are likely to shape the future of conceptual selling:
Personalization and Customer-Centricity
With advancements in data analytics and artificial intelligence, sales professionals will have access to more comprehensive customer data. 
This will enable them to personalize their approach, anticipating customer needs and preferences to deliver tailored solutions.
Integration of Technology
Salespeople will increasingly adopt various technological tools and platforms to enhance the selling process. 
This could include virtual reality for immersive product demonstrations, AI-powered chatbots for real-time support, and sophisticated CRM systems for managing customer interactions effectively.Emphasis on Relationship Building
While technology will play a significant role, the human touch will remain essential. 
Building strong relationships with customers and understanding their businesses on a deeper level will continue to be a vital aspect of conceptual selling.
Remote Selling
The COVID-19 pandemic accelerated the adoption of remote selling, and it is likely to remain a prominent feature in the future. 
Sales professionals will need to adapt to virtual interactions and leverage online communication tools effectively.
Sustainability and Social Responsibility
Customers are becoming more and more concerned about social responsibility and sustainability.
Future conceptual selling will require salespeople to address these issues and demonstrate how their products or services contribute positively to the environment and society.
Agile Selling
The business landscape is evolving rapidly, and salespeople will need to be agile in responding to market changes. 
They will have to adapt their sales strategies quickly and stay informed about industry trends to remain competitive.
Continuous Learning and Skill Development
As selling techniques and technologies evolve, sales professionals must embrace continuous learning and skill development to stay relevant and deliver value to their customers effectively.Cross-Functional Collaboration
Sales teams will need to collaborate closely with other departments within the organization, such as marketing, product development, and customer support, to ensure a unified and customer-centric approach.
In short, the future of conceptual selling will be shaped by a combination of advanced technologies, personalization, customer-centricity, and a focus on building strong relationships. 
Sales professionals who can embrace these trends and adapt their strategies accordingly will be well-positioned to succeed in an ever-changing business landscape.
Conclusion
Conceptual Selling revolutionizes the sales process by focusing on understanding customer needs and presenting customized solutions. 
By embracing perplexity and burstiness, sales professionals can engage customers effectively and build long-lasting relationships.
HAPPY CONCEPTUAL SELLING!!
Frequently Asked Questions (FAQs)