In today's highly competitive business landscape, sales professionals are constantly searching for innovative techniques such as NEAT Selling to boost their success. 
It is very obvious that approaching qualified leads by knowing their needs can easily increase your sales revenue. NEAT selling is all about this. 
This ultimate guide will take you through the principles and benefits of NEAT Selling, and equip you with valuable insights to implement this strategy into your sales process effectively.
Let's Start!!
What is NEAT Selling?
NEAT Selling, an acronym for:
N – Need
E – Economic Impact
A – Access to Authority
T – Timeline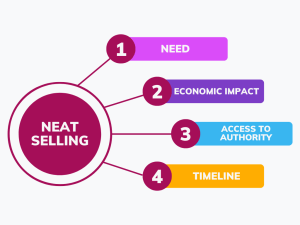 This sales methodology is a comprehensive approach that promises to revolutionize the way we sell.
NEAT Selling methodology evolved from BANT, ANUM, and AN. 
Richard Harris Consulting Group has created the NEAT qualification sales methodology to replace outdated sales techniques with modern sales methodologies. 
The main focus of NEAT selling is helping a salesman find a prospect's deeper needs for their problems. 
To implement NEAT selling, great listening and understanding skills are required which helps a sales professional to focus on customer's issues not only on making them purchase products or following a pre-built sales script.
And NEAT selling always believes in positive engagement with customers rather than acting on rehearsed speech. 
In simple terms, the primary purpose of the salesman is to filter customers who are actually in need of the product and terminate those customers who are not looking for your services. 
With this NEAT selling tactic, the salesmen can put more effort into valuable prospects who are interested in your product. 
Importance of NEAT Selling
Neat selling is crucial because it may offer a consistent approach to selling that takes changing consumer needs into account and concentrates on leaving a customer happy with a transaction. 
The relationship between the company and the consumer can be strengthened by neat selling, which can give customers the impression that they are being adequately catered to. 
A solution, not simply a product, is what neat selling is all about. It aids in the personalization of the selling process and permits a two-way dialogue that gives the sales process more freedom for the buyer and seller.
Understanding NEAT Selling: The Four Pillars
Yes, sometimes NEAT selling is considered a great philosophy. But, NEAT will help you to list out qualified customers on a keen level.
A salesman can engage prospects and qualify leads more effectively by using neat selling techniques. The four steps that make up the tidy selling process are as follow: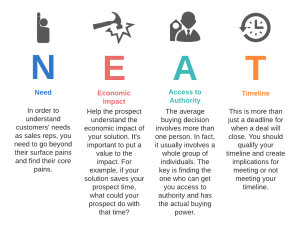 Need
The first level of NEAT selling is Need which includes asking, "What is the real Need of your customer?" 
In this phase, salesmen will put themselves at the customer's position and identify the customer's needs. They will think of all the in-depth issues faced by customers.  
In order to gain a deeper grasp of the prospect's experience, priorities, and purchasing motivations, a salesman may pose probing questions during this phase.
Conversation through open-ended questions are always good for determining customer's requirements and the specific factors they are looking for. 
During this stage, it is very important for salespeople to listen to everything their customer says, and give enough to ask questions, solve queries.
It might be simpler for salespeople to focus on specific demands if they have a deeper understanding of prospects' mental processes.
Questions to be ask:
In comparison to my suggested remedy, how is the prospect now resolving the issue?

Who is the issue affecting? Are multiple departments impacted?

What is or are the actual causes of the issue?
Economic Impact
A salesperson might learn more about the unique value their product has for a prospect by asking, "What is the financial impact of the solution on the client?" 
Because it is simpler to explain the answer to the consumer when a salesman concentrates on the economic impact, this is crucial.
For instance, a salesperson might be pitching time-management software to a client who wants to automate the process and assist their clients prioritize their work. 
The client also has a prospect who wants to spend less time contacting clients, sending emails, and making phone calls. 
They can advertise their product as having the ability to save the prospect's company more time, which could boost output.
Questions to be ask:
What is the difference between the problem's and the solution's potential economic effects?

What possible financial domino effects might my solutions have?
Access to Authority
Before concluding a contract, a salesperson should be aware of who has the power to approve it, whether it's simply one person or several people in different roles. 
Accessing a person who is in a position of more power requires knowledge of the interrelationships of an account and how these work in an organization. Ordinary purchasing decisions are rarely made by a single person. 
Before reaching a person with purchasing power and the ability to make a final choice, completing a sale frequently includes speaking to several people, all in different positions and levels of authority.
Questions to be ask: 
Who has the power? How can you get a hold of that person?

Who decides the financial matter?
Timeline
A salesman creates a realistic schedule for closing the deal during the timeline stage of the tidy selling process. 
It's crucial to consider the customer's timetable and how quickly they would want the product or service installed while defining the timeline. 
The salesman can influence the consumer to sign the contract by setting a deadline and generating repercussions for missing it.
Finding out how soon the prospect intends to make a choice can help to avoid a delay that stops the sale from closing. 
Deals can occasionally get delayed due to a variety of circumstances. If there are any restrictions you'd want to have fixed before we proceed, the salesperson can ask them, "Before we move any further, Are there any concerns you want to ask?" or "What is the best timeline to meet you?"
Questions to be ask:
What occurs if the deadline is not met?
So, Now, we will see how to implement NEAT selling in a real life sales scenario.
Implementing NEAT Selling in Your Sales Strategy
Assessing Your Current Sales Process
Before incorporating NEAT Selling into your strategy, it's essential to assess your current sales process. 
Identify strengths and weaknesses and determine how NEAT Selling can complement your existing approach.
Incorporating the Four Pillars of NEAT Selling
Integrating the four pillars of NEAT Selling into your sales strategy requires a cohesive plan. 
Create a roadmap that outlines how you will identify the Needs of customers, economic impact, authority access, and timeline throughout the sales cycle.
Leveraging Technology for NEAT Selling
Technology plays a crucial role in newly evolved or advanced sales methods. 
Explore sales software and tools that can assist you in implementing NEAT Selling efficiently. 
From customer relationship management (CRM) systems to personalized communication platforms, leveraging technology can enhance your sales efforts.
It's time to explore all the advantages offered by NEAT sales methodology.
The Benefits of NEAT Selling
Like conceptual selling, there are several benefits offered by NEAT selling methodology in terms of understanding the customer and building a relationship with customers.
Here, we have listed the key benefits of implementing NEAT selling in your sales procedures, have a look: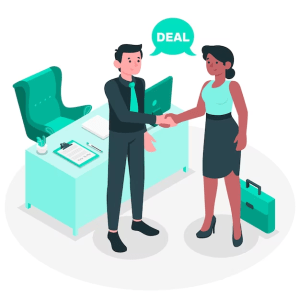 Building Trust and Credibility
By focusing on relationship-building and educating customers, NEAT Selling helps sales professionals establish trust and credibility. 
When prospects perceive sales reps as trustworthy advisors, they are more likely to choose their products or services over competitors.
This will lead to a long-term relationship with the customers. Also, you can get recurring orders or referral customers from your existing customers. 
Shortening Sales Cycles
NEAT Selling promotes a customer-centric approach that can shorten sales cycles. 
When customers feel understood and have their pain points addressed promptly, they are more likely to make decisions faster, expediting the sales process.
If you know your customer's needs sooner, then you can approach them easily with the right services and effective sales pitch. Ultimately, all this leads to a short sales cycle and business growth.
Increasing Customer Satisfaction and Retention
Customers that are happy with your product are more inclined to recommend it to others.
NEAT Selling's emphasis on personalized interactions and valuable insights helps increase customer satisfaction and retention, leading to long-term business growth.
Customer satisfaction is the key to creating a brand from any small business idea. 
Let's see all the problems faced by the NEAT Selling approach.
Common Challenges in NEAT Selling and How to Overcome Them
Overcoming Resistance to Change
Adopting a new sales strategy can face resistance from sales teams accustomed to traditional methods. 
To overcome this challenge, provide comprehensive training and highlight the benefits of NEAT Selling in achieving better results.
Balancing Personalization and Efficiency
While personalization is vital, sales professionals must strike a balance with efficiency to manage a high volume of prospects. 
Implementing tools that automate repetitive tasks while still allowing personalization is key.
Adapting to Different Buyer Personas
Each prospect comes with unique preferences and pain points. 
Sales professionals should learn to adapt their NEAT Selling approach to accommodate different buyer personas and industries effectively.
Tips for Perfecting Your NEAT Selling Technique
Here, we have listed the proven tips to effectively use NEAT selling in real life sales scenarios:
Focus on Active Listening and Empathy
Listening attentively to prospects and showing genuine empathy is critical for effective NEAT Selling. 
Understanding their pain points and needs will allow you to offer tailored solutions.
With this ability, you can clear the first stage of NEAT selling, and proceed to next steps where you have to identify economic impacts and authority access.
Continuously Learn and Improve
NEAT Selling is a dynamic strategy that requires continuous learning. 
Stay updated with industry trends, customer preferences, and sales techniques to refine your approach continually.
With more practice and experience in real life sales scenarios, you will get better results in sales for the upcoming future. Also, you get skilled in dealing with any type of customer. So, it's better to learn and improve consistently. 
Measure and Analyze Your Sales Performance
Use analytics and key performance indicators (KPIs) to evaluate the effectiveness of your NEAT Selling strategy. 
Identify areas for improvement and celebrate successes to keep your team motivated.
If you get aware of where you are lacking, then you can improve better in your performance. Because good performance is mandatory for high sales revenue.
Conclusion
NEAT Selling is a powerful approach that can transform your sales process and boost your success. 
By nurturing relationships, educating prospects, alleviating pain points, and taking action, sales professionals can create lasting impressions on their customers. 
Embrace the principles of NEAT Selling, adapt it to your unique sales environment, and enjoy the rewards of increased customer satisfaction and business growth.
HAVE A MARVELLOUS NEAT SELLING!!!
Frequently Asked Questions (FAQs)