In the fast-paced and competitive world of sales, having a well-defined and effective sales methodology is crucial for success and MEDDIC Sales Methodology is one of them. 
The powerful approach MEDDIC sales methodology has gained popularity in recent years. 
If you want to boost your sales performance and close deals more effectively, understanding MEDDIC is essential.
There are so many sales methods developed in the marketing world to enhance sales revenue, but it's all on you to choose which methodology is highly suitable and profitable for your business idea.
In this blog, let's understand everything about MEDDIC Sales Methodology, so you can get a clear picture of MEDDIC selling methodology and can decide whether it is worth implementing this method or not.
Let's Start!!
What Is MEDDIC Sales Methodology?
MEDDIC is one of the type of different sales methodologies and it's stands for 
M – Metrics 
E – Economic Buyer
D – Decision Criteria
D – Decision Process
 I  – Identify Pain 
C – Champion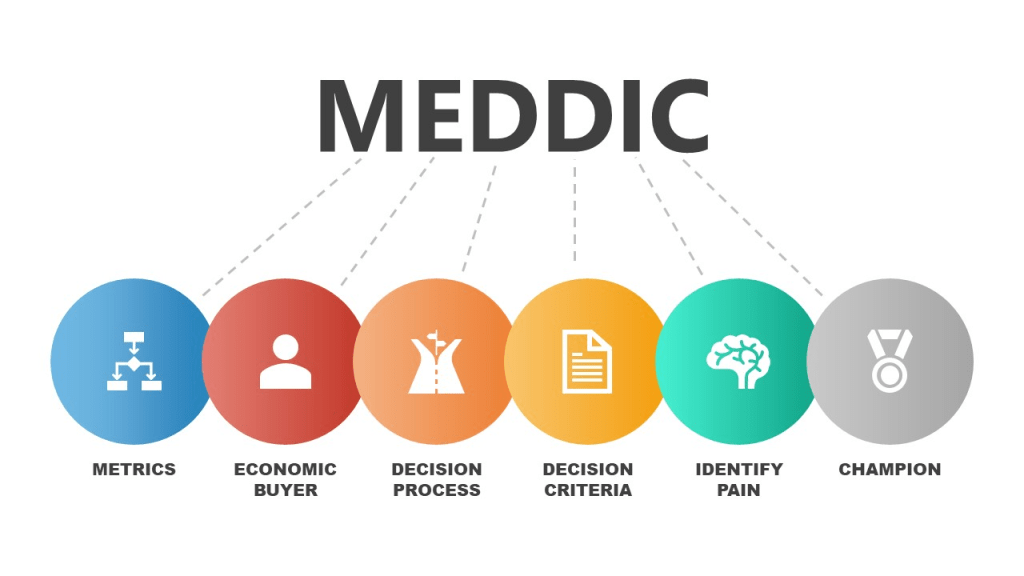 The MEDDIC sales methodology was invented by Jack Napoli and Dick Dunkel at PTC in the 1990s. It is mostly preferred as a B2B sales approach.
They grew sales from $300 million to $1 billion over the course of four years by using the MEDDIC framework. 
It is a comprehensive framework that helps sales teams qualify prospects and navigate the complex sales cycles with a customer-centric approach.
Greater client qualifying, or deciding whether or not to put effort into bringing a customer into your sales funnel, is emphasized during the MEDDIC process. This distinguishes MEDDIC from other sales approaches. 
The MEDDIC sales methodology's proponents contend that making presentations to more qualified prospects increases closing rates and boosts sales performance (it undoubtedly did for Napoli and Dunkel).
MEDDIC sales technique is considered as one of the best techniques because it not only gives profits to sellers but it also helps customers too. 
This process is all about identifying qualified customers, so you don't have to waste your efforts on somebody who is not in need of your services and product. 
This tactic will save your time and customer's time too. The qualified one will get the solution to their problems and you don't have to annoy the unqualified ones.
Let's dive into each component of MEDDIC Sales Methodology. 
Understanding The Components of MEDDIC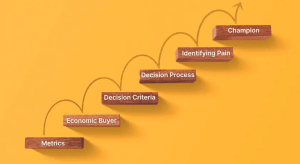 Metrics
The first step in the MEDDIC process is to establish clear Metrics. This involves quantifying the objectives and goals of both the prospect and your company. 
By aligning these metrics, you can ensure that the solution you offer will meet the customer's needs and drive value.
Economic Buyer
Identifying the Economic Buyer is critical in B2B sales. 
The Economic Buyer is the person within the organization who holds the budget and has the final authority to make purchasing decisions. 
Understanding this key stakeholder is essential for successful deal closure.
Decision Criteria
In this stage, you need to work with the prospect to define the Decision Criteria. 
These are the specific requirements and expectations that the prospect has for your product or service. 
Aligning your offering with their criteria increases the chances of winning the deal.
Decision Process
The Decision Process outlines the steps and stages the prospect will go through before making a buying decision. 
Understanding this process enables you to anticipate potential roadblocks and tailor your approach accordingly.
Identify Pain
To effectively address the prospect's pain points, you must first Identify Pain. 
By asking probing questions, you can uncover the challenges and issues the prospect is facing, making it easier to position your solution as the answer to their problems.
Champion
Cultivating a Champion within the prospect's organization is crucial for sales success. 
The Champion is an internal advocate who supports your offering and persuades other stakeholders to get on board with the decision.
Now. Let's learn how to use this MEDDIC Sales Methodology.
Implementing The MEDDIC Methodology
Now that we have a clear understanding of the components of MEDDIC, let's delve into the step-by-step process of implementing this methodology in your sales approach.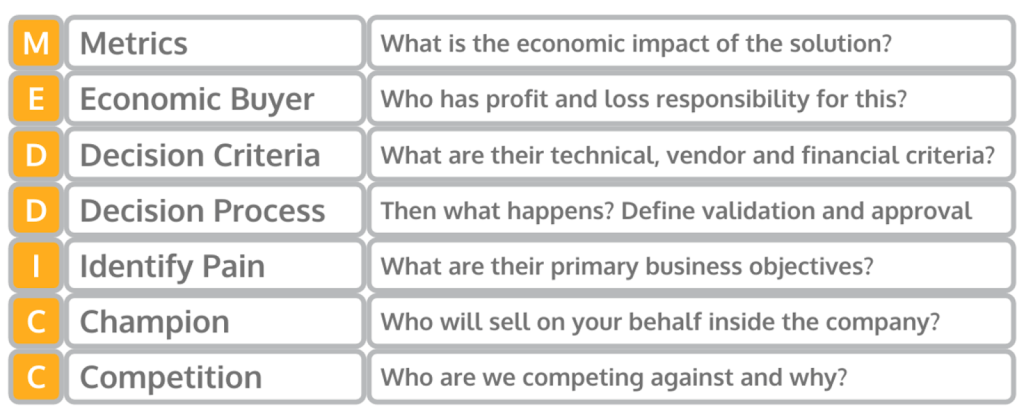 Step 1: Qualify the Prospect
Before investing time and resources, ensure that prospect fits your ideal customer profile. 
Qualifying the prospect involves assessing whether they have a genuine need for your product or service, have the necessary budget, and are ready to move forward with a purchase.
So you can talk to your customers like "Maybe you are looking for ABC," Our product is specially made to assist customers in doing that. It's been found to increase results in this area by XYZ percent!"
Step 2: Identify the Economic Buyer
Within the prospect's organization, determine who holds the purse strings. 
This person, known as the Economic Buyer, has the authority to make buying decisions based on financial considerations.
Sometimes, the whole team's decisions matter to make purchasing decisions, but you always have to find out who is the actual decision maker. Try to talk with the real decision-maker person of the company. 
If they said, the decision maker is not available, then consult your contact. Because after meeting the decision maker person you can understand the mindset, requirements, expectations, and priorities.
With this information, you can tackle the obstacle of deals, prepare your pitch, and reach out to the person more effectively. 
Step 3: Define Decision Criteria
Work closely with the prospect to identify their Decision Criteria. 
Understand their specific requirements, pain points, and preferences, aligning your offering accordingly.
In simple words, there is a lot of competition going on in every field. So, your sales pitch has to be effective enough to gain your customers' trust that you are the one who offers the best solutions for their problems.
Try to be sure about their price range, potential return on investment, and any other criteria your prospect has. 
Step 4: Understand the Decision Process
By understanding the Decision Process, you can map out the steps the prospect will take to evaluate and select a solution. 
This insight helps you anticipate potential challenges and tailor your sales strategy for success.
You should have all the answers to these questions: 
What internal approval procedures are in place at your prospect's company for purchases?

Which members of the team are involved? 

What procedures must those team members follow? 

How much time will all of this require?
And, to know all these answers you can simply ask "What is the procedure for converting you into a customer? This is the best question to ask your prospect during this stage.
You can follow along once you understand your prospect's decision-making process. If the sale stalls, you'll know exactly where it stalled and will be able to try to un-stall it.
Step 5: Uncover Pain Points
Engage the prospect in meaningful conversations to identify their Pain Points. 
This step requires active listening and empathetic communication to comprehend their challenges fully.
If you understand the pain points of your customers, then you can modify your sales pitch to approach your customer in a way that your product is the only best solution for their pain points. 
Motivate your prospect to be free with you and specific about the hurdles they are dealing with. 
If they are having difficulty maintaining sales productivity, inquire as to how much time they are losing on a daily basis. 
Inquire how much revenue the missed traffic costs them if their website traffic is down. Specificity will help you personalize your pitch to your prospect's demands.
Step 6: Cultivate a Champion
Build a relationship with a Champion within the prospect's organization. 
This individual will become your internal advocate and help you navigate the organization's complexities.
With a champion, B2B sales becomes the easiest task. Want to know why? Because B2B sales cycles are frequently long. Your champion will keep your product on decision-makers' radar screens, keeping sales from declining. This is quite beneficial!
Just be sure you pick the proper champion. This person should be respected inside the firm and have the ability to influence decision-making.
Now, we will see some questions which you have to ask while using the MEDDIC methodology.
Top 30 MEDDIC Sales Model Questions
The MEDDIC sales model is a popular framework used by sales professionals to qualify and advance sales opportunities. 
MEDDIC stands for Metrics, Economic Buyer, Decision Criteria, Decision Process, Identify Pain, and Champion. 
Here are 30 questions based on the MEDDIC model:
Metrics
What are your specific business objectives for this quarter/year?
How do you measure success in your organization?
What key performance indicators (KPIs) are you focused on improving?
Economic Buyer
Who holds the budget authority for this project?
Are there any other stakeholders involved in the purchasing decision?
How does the decision-making process typically work in your company?
Decision Criteria
What are the critical features and functionalities you're looking for in a solution?
How important is scalability and flexibility for your team?
What are the deal-breakers that would disqualify a solution?
Decision Process
What steps are involved in your purchasing process?
Are there any specific timelines or deadlines you need to meet?
Are there any potential roadblocks that could delay the decision-making process?
Identify Pain
What challenges or pain points are you currently facing in your business?
How have these pain points affected your team's productivity and bottom line?
Can you share specific examples of how these pain points manifest in your organization?
Champion
Is there someone internally who is championing this project?
What is their role, and how influential are they in the decision-making process?
How can we best support your internal champion to drive this initiative forward?
Competition
Are you evaluating any other solutions or vendors at the moment?
What are the strengths and weaknesses of the other solutions you're considering?
How do we compare to your existing alternatives?
Value Proposition
How do you see our solution addressing your specific challenges?
What potential return on investment (ROI) are you expecting from our product/service?
Can we provide any case studies or references from similar companies in your industry?
Risk
What concerns or risks do you have about implementing a new solution?
How do you typically handle risks associated with new technology adoption?
What assurances or guarantees do you require from a vendor?
Next Steps
What are the next actions in the sales process from your perspective?

How can we best support you in moving this project forward?
Is there any additional information or data you need from us to make a decision?
Remember, the MEDDIC model is about understanding the customer's needs and aligning your solution to address those needs effectively. 
These questions should help you qualify the opportunity and guide the sales process in a customer-focused manner.
MEDDIC is Trending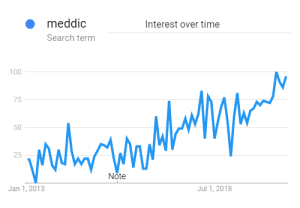 If you look at Google trends for MEDDIC, you'll notice that it's 10 times more popular today than it was 10 years ago.
Let's learn about some of the advantages of MEDDIC selling methodology.
Advantages of The MEDDIC Sales Methodology
Implementing the MEDDIC sales methodology can yield several significant advantages for your sales team and organization as a whole.
1. Improved Sales Forecasting
With a structured qualification process, your sales forecasts become more accurate. 
By focusing on deals that align with the MEDDIC criteria, you can better predict which opportunities are likely to close successfully.
2. Shortened Sales Cycles
Understanding the prospect's decision-making process allows you to streamline your sales cycles. 
By addressing concerns proactively and providing the right information at the right time, you can accelerate deal closure.
3. Higher Win Rates
When you align your offering with the prospect's Decision Criteria and Pain Points, you increase the chances of winning the deal. 
The MEDDIC methodology ensures that you focus on the most qualified opportunities.
4. Better Deal Qualification
The thorough qualification process of MEDDIC helps your sales team prioritize their efforts and resources on deals with the highest likelihood of success. 
This reduces wasted time and resources on pursuing unlikely prospects.
5. Stronger Customer Relationships
By taking a customer-centric approach and understanding the prospect's needs, you build trust and credibility. 
Stronger customer relationships lead to repeat business and referrals.
Challenges and Limitations of MEDDIC
While MEDDIC is a powerful sales methodology, it does come with certain challenges and limitations.
1. Time-Consuming Process
Implementing MEDDIC requires time and effort, particularly during the early stages of adoption. 
Sales teams may need to adapt their processes and undergo extensive training.
2. Requires Proper Training and Adoption
For MEDDIC to be effective, all members of the sales team must be well-versed in the methodology and consistently apply it. 
For successful implementation, there must be sufficient training and support.
3. Not Suitable for All Industries
While MEDDIC works well in many B2B scenarios, it may not be the best fit for all industries or product types. 
It's essential to assess whether MEDDIC aligns with your specific sales context.
Now, we will compare the MEDDIC sales technique with other sales methodology to understand why MEDDIC is always the best choice. 
Comparing MEDDIC With Other Sales Methodologies
To understand the uniqueness of MEDDIC, let's compare it with other popular sales methodologies.
MEDDIC vs. BANT
BANT stands for Budget, Authority, Need, and Timing. 
While both MEDDIC and BANT focus on qualifying prospects, MEDDIC places more emphasis on understanding the prospect's Decision Process and identifying Pain Points.
MEDDIC vs. SPIN Selling
SPIN Selling focuses on asking Situation, Problem, Implication, and Need-Payoff questions. 
While SPIN Selling helps identify needs and problems, MEDDIC takes a more holistic approach by considering all aspects of the sales process.
MEDDIC vs. Challenger Sales
The Challenger Sales methodology centers around challenging the prospect's thinking and offering new insights. 
MEDDIC, on the other hand, focuses on qualifying opportunities based on specific criteria.
Tips For Implementing MEDDIC Effectively
Implementing MEDDIC effectively requires commitment and strategic planning. 
Here are some tips to make the most of this powerful sales methodology:
1. Invest in Training and Development
Ensure that all members of your sales team receive comprehensive training on the MEDDIC methodology. 
Provide ongoing coaching and support to reinforce its application.
2. Use CRM to Track Progress
Leverage a Customer Relationship Management (CRM) system to track and analyze the progress of your deals. 
You can use this to find areas for development and to guide your decisions with statistics.
3. Encourage Collaboration between Sales and Marketing
Foster collaboration between your sales and marketing teams to ensure they are aligned in their messaging and approach. 
Marketing can provide valuable insights into customer pain points, helping sales reps have more meaningful conversations.
4. Leverage Customer Success Stories
Share success stories from previous customers who benefited from your product or service. 
These real-life examples can resonate with prospects and demonstrate the value of your offering.
5. Continuously Refine Your Process
Regularly assess the effectiveness of the MEDDIC methodology within your organization. 
Solicit feedback from your sales team and make adjustments to improve performance continually.
Conclusion
The MEDDIC sales methodology has proven to be a game-changer for sales teams seeking a customer-centric approach to deal closure. 
By focusing on Metrics, Economic Buyer, Decision Criteria, Decision Process, Identify Pain, and Champion, sales professionals can qualify prospects more effectively and navigate complex sales cycles with confidence.
Implementing MEDDIC is not without its challenges, but the benefits it brings in terms of improved sales forecasting, shorter sales cycles, higher win rates, and stronger customer relationships make it well worth the effort. 
Remember to invest in training, leverage technology, and encourage collaboration between teams to maximize the impact of MEDDIC on your sales success.
HAPPY MEDDIC SALES!!!
FAQs (Frequently Asked Questions)