Sales training for financial advisors is a crucial question to think of! Is it worth it or not?
As the financial landscape continues to evolve, financial advisors face increasing challenges in attracting and retaining clients while achieving their business goals.
Sales training for financial advisors plays a pivotal role in equipping professionals with the necessary skills and techniques to thrive in this competitive industry.
In this article, we will explore the top sales training programs available to financial advisors and delve into the best techniques that can empower them to succeed.
Let's Begin!
Overview of Sales Training For Financial Advisor
Generally, people think that sales training is just a waste of time, it is never worth the time and money.
But, I must tell you, this is not the truth. Sometimes, when you don't take sales training seriously, then it wouldn't benefit you.
Instead, you can concentrate on the unique technique and practice done in the sales training programs, you can nourish your sales efforts and enhance your sales growth.
Sales training can help you to deliver the best of yourself and the best value of your product to the prospects.
And, as a Financial advisor you are asking your customer to trust you with their precious money, hence here the poor approaches to sales will not work!
So, it seems like sales training for financial advisors is good to build relationships with customers.
Let's dive into the concept of how do financial advisors get clients with the help of sales training programs and sales techniques.
Importance of Sales Training for Financial Advisors
Financial advisors need more than just financial acumen to excel in their roles.
Financial Training Programs are essential because it enables them to effectively communicate with clients, build trust, and offer tailored solutions.
It equips advisors with the ability to navigate the complexities of the financial market and turn prospects into loyal clients.
Various sales techniques will help a lot from approaching a client to closing deals.
As a financial advisor, when you ask your client to utilize their money under your guidance, then it takes a bunch of trust between you and your client.
Here, you can gain your customer's trust effectively with the right sales training program for financial advisors.
What To Consider While Choosing Sales Training For Financial Advisor?
Every customer has some common things with them, but your approach and conversations might go differently depending on their specific pain points.
The modern, latest, and collaborative salesman and customer conversation solve this.
So, first, think about which one is the most effective approach to train sales professionals.
You need to check out for:
Is your sales training financial services enough to solve the problems of your sales reps?
Does it create value for your sales reps?
Does that sales training for financial advisors have enough planning to build rapport with customers?
The included techniques are steering the conversation?
Do your sales training program methods are enough to close deals?
With the proper guidance and best sales training for financial advisors, you can focus on where your sales reps need to build confidence and overcome pinpoints.
Every training course should be adaptable, and does the course guarantee that sales representatives won't revert to old habits when training is finished? If not, you're not maximizing the benefits of your training.
Is there any evidence of success, to finish? You must be certain that the training course you've chosen has been successful for previous teams.
Top 5 Sales Training Programs for Financial Advisors
1. Yatharth Marketing Solutions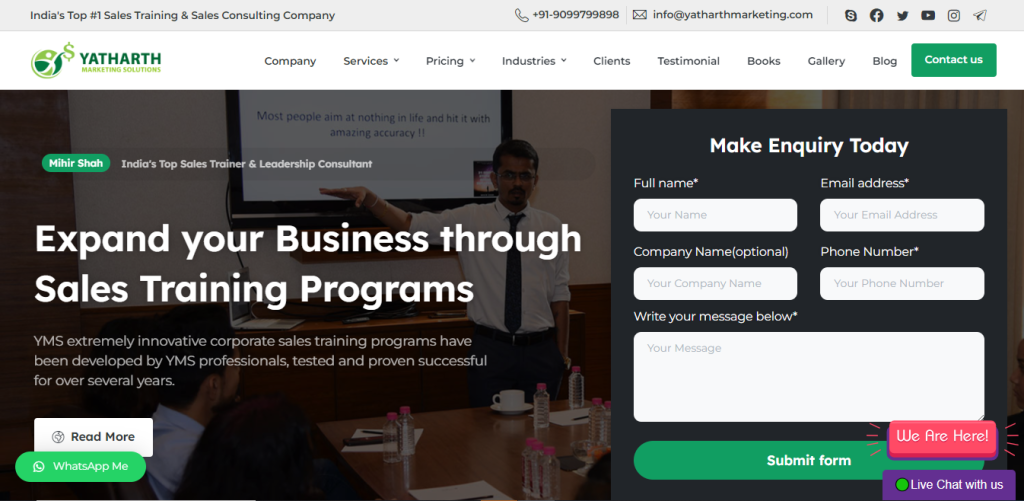 If you are wondering how to become a professional financial advisor, then we highly recommend Yatharth Marketing Solutions for you to get trained.
Yatharth provides a renowned program tailored explicitly for sales professionals and also specifically for financial advisors.
It focuses on honing their selling skills, enhancing their product knowledge, and understanding client psychology.
Through interactive workshops and real-life simulations, advisors gain the confidence to face any sales challenge head-on.
Yatharth Marketing Solutions are not limited to training financial advisors only, they provide customized training programs on different fields such as automotive, pharmaceutical, real estate, retails sales, IT-softwares, and many more. You can find every detail on Yatharth's website.
2. AAFM India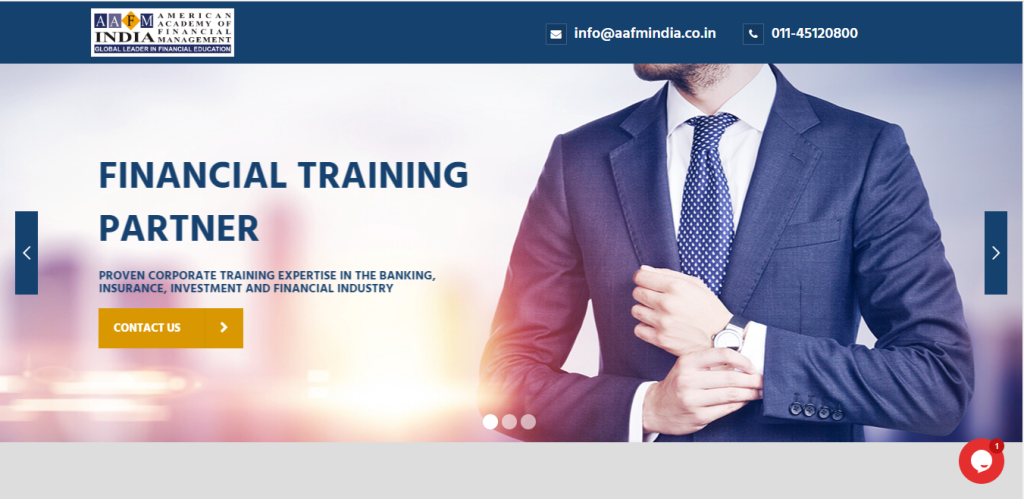 AAFM India is a comprehensive training program that covers every aspect of a financial advisor's journey.
From prospecting and lead generation to closing deals, this program offers a holistic approach to sales training.
Participants receive personalized coaching and ongoing support to ensure they apply the learned techniques effectively.
3. Morgan Stanley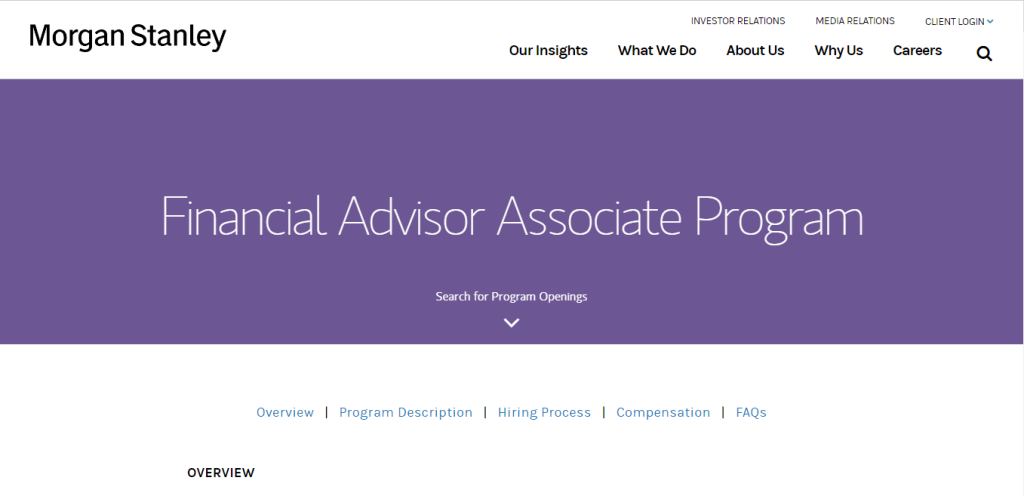 Morgan Stanley is a results-driven program designed for financial advisors aiming to increase their sales performance.
It incorporates cutting-edge sales strategies, time-tested methodologies, and the latest industry trends.
Advisors undergo rigorous training, focusing on creating compelling value propositions and nurturing long-lasting client relationships.
4. Step Learning India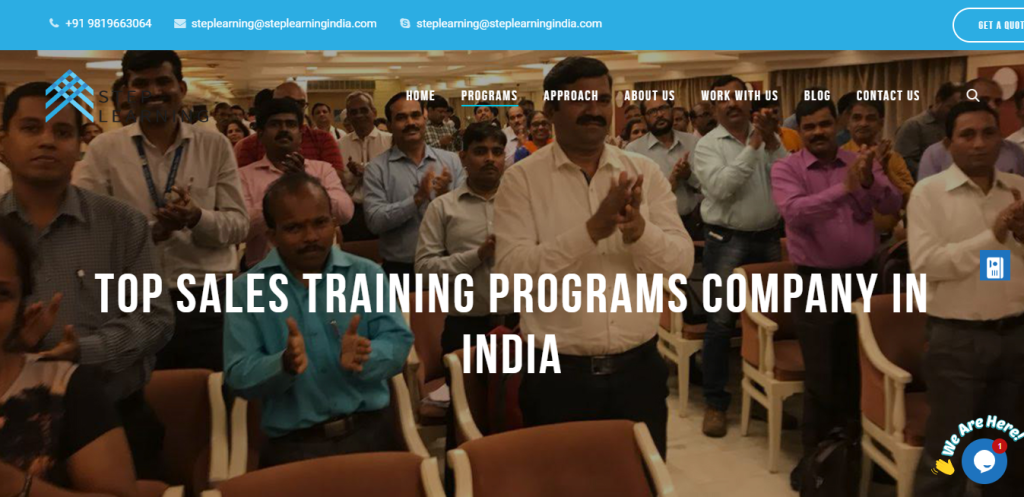 Step Learning India provides a range of different sales training programming which helps you to enhance your hidden soft skills.
The major focus of Step Learning India is sales and services, leadership development, team building and outbound, communication development training, and personal effectiveness training.
5. Susan Danzing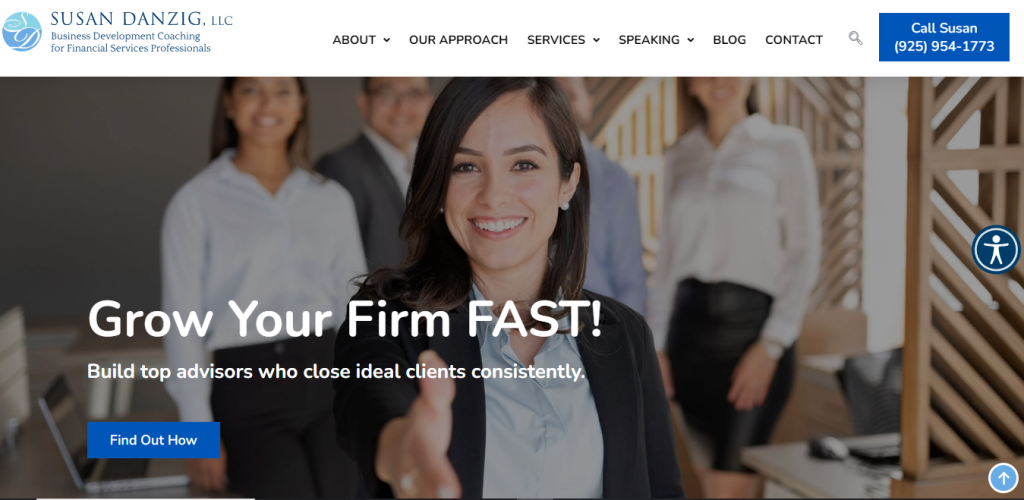 Susan Danzing sales training for financial advisors helps you to grow your firm rapidly. They promise to build top financial advisors who close the deals on a continuous basis.
They provide corporate training programs, FAST (Financial Advisor Success Training) program, CEPA FAST Program, and private consulting also.
The Benefits of Sales Training for Financial Advisors
Sales training for financial advisors offers numerous benefits that can significantly enhance their performance and success in the highly competitive financial services industry.
Here are some of the key advantages:
1. Improved Communication Skills
Sales training helps financial advisors develop better communication skills.
This includes active listening, effective questioning techniques, and the ability to clearly explain complex financial concepts to clients.
Improved communication fosters trust and confidence, leading to stronger client relationships.
2. Enhanced Product Knowledge
Financial advisors undergo training to deepen their understanding of various financial products and services.
This comprehensive knowledge enables them to recommend suitable solutions tailored to each client's unique needs and financial goals.
3. Increased Sales Effectiveness
Sales training equips financial advisors with proven sales techniques and strategies.
This enables them to identify prospects, overcome objections, and close deals more effectively.
As a result, advisors can convert a higher percentage of leads into satisfied clients.
4. Building Client Trust
Clients are more likely to trust and feel comfortable with financial advisors who exhibit professionalism and confidence.
Sales training helps advisors project a positive image, build rapport, and demonstrate expertise, which fosters trust and credibility.
5. Time Management and Efficiency
Training programs often cover time management techniques, enabling financial advisors to prioritize tasks and manage their schedules more efficiently.
This helps them focus on high-priority clients and activities that drive business growth.
6. Confidence in Handling Objections
Sales training equips advisors with the skills to handle client objections and concerns effectively.
By addressing these challenges, advisors can instill greater confidence in clients and overcome potential barriers to closing deals.
7. Adapting to Market Trends
The financial industry is continually evolving, with new products, regulations, and market trends emerging regularly.
Sales training ensures that advisors stay up-to-date with the latest developments, enabling them to adapt their strategies and provide relevant advice to clients.
8. Increased Client Retention
When financial advisors are skilled at maintaining strong relationships with clients, those clients are more likely to remain loyal over the long term.
Sales training helps advisors build lasting connections and foster client loyalty.
9. Professional Growth and Motivation
Training programs not only improve skills but also boost the confidence and motivation of financial advisors.
When advisors feel competent and supported, they are more likely to stay committed to their profession and strive for continuous improvement.
10. Compliance and Ethical Considerations
Sales training often includes education on compliance regulations and ethical considerations in the financial industry.
This ensures that advisors understand their responsibilities, act in the best interest of their clients, and maintain the highest standards of integrity.
That means we can say that sales training provides financial advisors with a valuable toolkit to succeed in their roles, ultimately leading to increased client satisfaction, higher sales performance, and a more successful and fulfilling career in the financial services industry.
Best Techniques for Financial Advisors Sales Training
Technique 1: Building Rapport with Clients
Building rapport is the foundation of successful client-advisor relationships.
Advisors learn active listening skills, empathy, and the art of connecting with clients on a personal level.
Establishing trust and credibility helps advisors understand clients' needs and provide tailored financial solutions.
Technique 2: Effective Communication Skills
Effective communication is paramount in the financial advisory field.
Advisors learn to articulate complex financial concepts in a clear and concise manner, making it easier for clients to comprehend.
The program also emphasizes non-verbal communication to enhance advisors' overall message delivery.
Technique 3: Identifying Client Needs and Goals
Understanding clients' needs and goals is crucial for offering relevant advice.
Advisors are trained to ask insightful questions, analyze financial situations, and align their recommendations with clients' long-term objectives.
Technique 4: Overcoming Objections
The sales process is naturally characterized by objections.
The program equips advisors with the ability to address objections confidently and turn them into opportunities to reinforce their value proposition.
Technique 5: Closing Deals
Closing deals is the ultimate goal of any sales process.
Advisors learn various closing techniques, allowing them to ask for commitments and guide clients through the decision-making process.
Real-Life Success Story
Name: Sarah Smith
Location: New York City, USA
Occupation: Financial Advisor
Background
Sarah Smith started her career as a financial advisor at a reputable financial services firm in New York City.
She had a strong academic background in finance and was knowledgeable about various investment products and financial planning strategies.
However, she faced challenges in converting potential clients into long-term customers.
Her sales numbers were average, and she realized that she needed to enhance her sales skills to succeed in the competitive financial advisory industry.
Sales Training Journey
Recognizing the importance of improving her sales abilities, Sarah decided to invest in a comprehensive sales training program specifically tailored for financial advisors.
The training covered a wide range of topics, including effective communication techniques, understanding client needs, building trust, handling objections, and closing deals.
Implementation and Results
Armed with her new knowledge and skills, Sarah started applying what she learned in her daily interactions with clients and prospects.
She became more adept at understanding clients' financial goals and concerns, and she could articulate how her financial planning services could address their specific needs.
Sarah learned to actively listen to clients, which helped her build stronger relationships and trust.
Over time, Sarah's sales performance began to show significant improvement. She started closing more deals and expanding her client base.
Word-of-mouth referrals increased as satisfied clients recommended her services to their friends and family.
Sarah's confidence in her abilities grew, and she was no longer hesitant when faced with objections.
Instead, she skillfully addressed concerns and converted potential objections into opportunities to showcase the value she could provide.
Career Advancement
With her remarkable success in sales and a growing client portfolio, Sarah caught the attention of senior management within her firm.
Recognizing her potential, she was promoted to a leadership position where she not only handled her clients but also mentored and trained new financial advisors within the firm.
Her dedication to continuous improvement and her commitment to providing excellent service inspired her team members to excel in their roles as well.
Summary
Sarah Smith's success story is a testament to the impact of sales training for financial advisors.
By investing in her professional development and honing her sales skills, she not only achieved personal growth and financial success but also contributed to the growth of her company.
Her journey serves as an inspiring example for other aspiring financial advisors looking to excel in their careers by focusing on both technical expertise and effective sales techniques.
The Future of Sales Training in the Financial Industry
The future of sales training in the financial industry is poised to undergo significant transformations as technology, consumer behavior, and industry trends continue to evolve.
In the coming years, we can expect several key developments that will shape the way financial professionals are trained and equipped to excel in their sales roles.
Personalization through AI
Artificial Intelligence (AI) will play a crucial role in tailoring sales training to individual needs. AI-powered platforms will analyze salesperson performance data, identify areas for improvement, and deliver personalized training content to enhance their skills and knowledge.
Virtual Reality (VR) Simulations
VR simulations will revolutionize sales training by providing realistic and immersive scenarios for financial professionals to practice their sales techniques.
These simulations will enable sales reps to gain practical experience in a risk-free environment, honing their skills before engaging with real clients.
Data-driven Training
With the abundance of data available, sales training will increasingly be data-driven.
Analyzing sales metrics, customer feedback, and market trends will help identify successful strategies and enable the development of targeted training programs for specific sales teams.
Continuous Learning
The financial industry is ever-changing, with new products, regulations, and technologies emerging regularly.
Sales training will adopt a continuous learning approach, where professionals engage in ongoing education to stay up-to-date with industry developments and enhance their expertise.
Soft Skills Emphasis
While technical knowledge will remain essential, the future of sales training will emphasize the development of soft skills.
Empathy, communication, emotional intelligence, and relationship-building abilities will be given equal importance to foster stronger client-advisor relationships.
Remote Training and Microlearning
Remote work and flexible schedules will continue to be prevalent in the financial industry.
Sales training will adapt to these changes by offering remote learning options and adopting microlearning strategies, delivering bite-sized, easily digestible content accessible anytime, anywhere.
Gamification
Gamification elements will be incorporated into sales training programs to increase engagement and motivation.
Leaderboards, rewards, and interactive quizzes will make the learning process enjoyable and competitive, encouraging sales professionals to excel.
Ethical Selling
As consumer awareness about ethical practices grows, sales training will focus on ethical selling techniques.
Emphasis will be placed on transparent communication, ensuring that financial professionals act in the best interest of their clients.
Coaching and Mentorship
The role of coaches and mentors will become more critical in sales training.
These experienced professionals will guide new recruits, providing valuable insights and personalized guidance to accelerate their development.
Multichannel Learning
Sales training will embrace various learning channels, including online courses, podcasts, webinars, and interactive workshops.
This multichannel approach will cater to diverse learning preferences and enable sales reps to choose the most suitable methods for their development.
Hence, The future of sales training in the financial industry will be driven by technological advancements, a focus on personalized and continuous learning, and a commitment to developing well-rounded professionals capable of meeting the evolving needs of clients and the industry as a whole.
Final Words
In conclusion, sales training for financial advisors is a transformative investment in their career development.
Through top-notch programs and essential techniques, advisors can unlock their potential and achieve extraordinary success in the financial advisory landscape.
Frequently Asked Questions (FAQs)