To manage things better, you should always track them! Sales team performance metrics are meant to analyze team's productivity. 
In the dynamic and competitive landscape of modern business, sales teams play a pivotal role in driving revenue and growth. 
Measuring your team performance on important metrics are crucial to boost sales outcomes. To maximize their effectiveness, organizations must rely on data-driven insights. 
This is where sales team performance metrics step in, providing a comprehensive understanding of team productivity and identifying areas for improvement.
Let's explore all the important metrics to review performance!!
What Are Sales Metrics?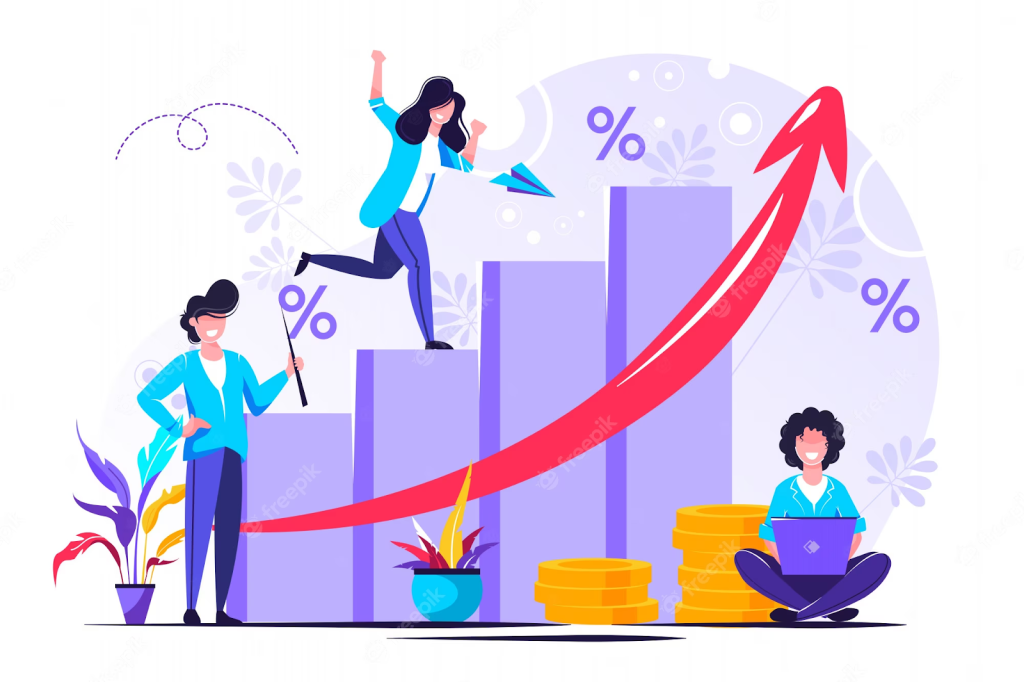 Key performance indicators, or KPIs, or Sales Metrics, are data points that track the effectiveness of both your sales team and individual salespeople. 
Sales measurements are used to create incentive schemes, identify areas of strength, determine commissions and incentives, among other things.
Sales metrics can be classified as leading or trailing indicators. Lagging indicators demonstrate the past performance of your salesperson. 
Based on what they are accomplishing now, leading indicators reveal what your salespeople are likely to achieve in the future.
Metrics like total revenue or sales by lead source are examples of lagging indicators. 
Sales Metrics like the volume of phone calls or emails sent are examples of leading indicators. 
Leading indicators are based on the current work that your team is conducting. 
You can more accurately anticipate the future by combining the information from leading and lagging measurements.
The Power Of Sales Team Performance Metrics
Metrics serve as the compass guiding sales teams towards success. 
By quantifying various aspects of the sales process, businesses can gain valuable insights into their teams' performance, identify strengths and weaknesses, and make informed strategic decisions.
Why Is Tracking Sales Team Performance Metrics Important?
You may evaluate the effectiveness of your company's sales activities using sales metrics. 
Intuition and gut feelings are insufficient when creating a fresh outreach campaign or attempting to demonstrate the ROI of your SDRs (sales development reps). 
Let's learn about all the key metrics which help you to determine your sales team productivity.
Key Metrics To Enhance Sales Team Productivity
Each of these sales measures evaluates the sales team's contribution to the company's overall growth and profitability.
Conversion Rate
the proportion of leads that become paying clients.
A higher conversion rate indicates efficient lead qualification and a strong sales process.
Conversion rate is the measurement of your team's efforts. The effectiveness of your sales team in turning new leads into clients is gauged by conversion rates. 
Both sales and marketing may benefit from this crucial indicator, and they frequently utilize it to evaluate their strategy and the caliber of incoming leads.
The following is a simple formula you can use to determine conversion rates:
Conversion Rate = (Number of Leads Converted Into Sales ÷ Total Number of Leads) x 100
Segmenting conversion rates by campaign type, acquisition channel, program, area, and other parameters allows you to study certain conversion rates at a finer level.
Lead Response Time
the length of time it takes a salesperson to answer a lead's query.
Faster response times can lead to higher conversion rates and customer satisfaction.
Tracking this data helps improve lead conversion and speed up responses. 
The vendor who answers to a customer first often receives about 50% of B2B purchases; this emphasizes the significance of prompt and effective lead response.
Sales Velocity
Sales Velocity is a measure of how quickly deals progress through the sales pipeline.
Monitoring sales velocity helps optimize the sales process and forecast revenue more accurately.
Average Deal Size
The average value of deals that the sales team closed.
Tracking this metric helps identify trends in customer preferences and pricing strategies.
Win Rate
The percentage of deals that are successfully closed. 
A high win rate reflects the effectiveness of the sales team in turning opportunities into revenue.
The win rate is a gauge of how successfully a sales representative can bring about a deal. Although it may sound similar to the conversion rate, this is not the case. 
Win rate compares the quantity of successful deals concluded with the quantity of sales opportunities. In contrast to conversion rate, it doesn't take time into account.
The victory rate calculation formula is as follows:
Win Rate = Deals Closed x Total Deals Made
Churn Rate
the frequency with which clients discontinue using your company's services.
Understanding churn helps identify customer retention issues and areas for improvement in customer satisfaction.
In accordance with your most frequent contract type, you can compute on a monthly, quarterly, or annual basis.
The churn rate equation is:
(# of customers lost in a given time period) / # total customers at the beginning of a given time period
Sales Activities
Tracking the number of calls, meetings, emails, and other sales-related activities. This metric highlights the team's effort and engagement.
Using an activity dashboard, you can keep your representatives concentrated on the proper tasks. 
Display the number of consecutive days they have logged into the CRM. 
This covers the number of calls, presentations, and emails they made or sent in the previous week.
Sales Cycle Length
The time it takes to close a deal from the initial contact to closing. 
How long does it typically take for leads to become customers for your sales team? 
However, it's crucial to keep in mind that sales cycle lengths will vary by product and customer types. In short, the shorter sales cycle length is the better one.
Shortening the sales cycle can lead to increased efficiency and quicker revenue generation.
How long does it take to turn an unqualified lead into a customer? You can find out by doing the following:
Sales Cycle Length = Total Number of Days for All Deals ÷ Total Number of Deals
Quota Attainment 
The percentage of a sales representative's quota that has been attained and whether they have met their quota within a specified time frame are both indicated by quota attainment. 
Low quota attainment rates can be a sign of more complicated problems with the sales team, such as insufficient coaching, rep ramping, and capacity planning, making this indicator crucial to track.
It's important to note that our opinion is that your BI dashboard should track progress towards quota attainment so that you can intuitively grasp how sales activity data (we'll talk more about these metrics later) directly affect and link to quota attainment.
Formula for determining Quota Attainment is:
Quota Attainment = Closed Revenue / Target Revenue (Quota)
What portion of sales reps achieve 100% of their sales target is a logical follow-up query for any sales manager or leader.
Formula for determining Rep Quota Attainment is:
Rep Quota Attainment = Total Contract Value / Contract Duration (Years, Months)
Now, we will go further to learn tips for effective use of sales metrics and we also understand about sales productivity metrics and how sales metrics can enhance sales performance.
Using Sales Metrics Wisely
Let's see how you can implement metrics in real terms.
Set Clear Goals
Align your metrics with specific sales goals and objectives. 
Whether it's increasing revenue, improving customer retention, or expanding market share, metrics should reflect your desired outcomes.
Avoid Overwhelm
While there are numerous metrics available, focus on a few key ones that align with your goals. 
Too many metrics can lead to confusion and hinder productivity.
Regular Monitoring and Analysis
Metrics should be monitored consistently to track progress and identify trends. 
Regular analysis helps pinpoint areas requiring attention and opportunities for optimization.
Celebrate Successes and Address Failures
Acknowledge and reward achievements based on metrics, and address underperformance with targeted coaching and training.
Adapt and Evolve
Markets change, and so do sales dynamics. Be prepared to adjust your metrics as your business landscape evolves.
What Are Sales Productivity Metrics?
How well your sales personnel meet their sales goals is measured by sales productivity. 
Your sales productivity decreases as more time is needed to reach your sales targets. 
Productivity also has an impact on whether you were able to cut costs during the procedure.
Similar to how productivity in the field of economics is measured, sales productivity is also determined by comparing each unit of input to the output, or revenue. 
Identifying the inputs that provide the highest output is the aim of tracking sales productivity measures.
How Can Sales Metrics Increase Sales Performance?
A sales professional can no longer rely on their gut or intuition in today's data-driven market. 
Decisions are increasingly driven by data; a sales manager without the proper measures to assess the productivity and efficiency of their staff will be severely constrained.
If you want to stand out in today's competitive market, you must be able to identify your most efficient sales strategy, how soon your sales and marketing team can achieve their objectives, and whether your sales targets are genuinely achievable.
Measures Of Sales Performance
The following sales productivity measures, most of which are expressed as percentages:
Time spent selling

Time spent on manual data entry 

Time spent creating new content

Number of marketing collaterals utilized by sales reps

Number of sales tools utilized by each sales rep

Number of follow-ups from high-quality leads
Conclusion
Sales team performance metrics serve as the compass that guides organizations towards improved productivity and success. 
By tracking and analyzing key metrics, businesses can make informed decisions, optimize processes, and ultimately enhance their sales team's efficiency. 
In a world driven by data, leveraging metrics is not just a strategy, but a necessity for staying competitive and achieving sustainable growth.