In today's competitive business landscape, people are using B2B sales tools to do efficient B2B sales operations for sustained growth and success. 
That refers as companies strive to improve their sales performance, the adoption of advanced sales tools has become paramount. 
This article aims to explore the best B2B sales tools, highlighting their benefits and features.
Let's Explore!!
Overview: B2B Sales Tools
B2B sales tools are specialized software designed to enhance sales teams' productivity and organization in business-to-business transactions. 
Unlike B2C sales tools, which cater to individual consumers, B2B sales tools focus on meeting the unique needs of businesses dealing with other businesses. 
These tools offer a range of features to streamline sales processes, improve customer relationships, and boost revenue.
B2B sales tools play a vital role in enhancing sales efficiency, optimizing customer interactions, and ultimately driving revenue growth for businesses engaged in B2B transactions.
Types of B2B Sales Tools Available In The Market
B2B sales tools aim to streamline the sales process, improve efficiency, and enhance productivity by providing features and functionalities that address various stages of the B2B sales cycle. 
Some common B2B sales tools include:
1. Customer Relationship Management (CRM) Software
CRM systems help sales teams manage and track interactions with leads and customers, maintain contact information, and analyze sales data.
2. Sales Engagement Platforms
These platforms automate and optimize communication with prospects through email sequences, automated follow-ups, and personalized messages.
3. Sales Enablement Tools
These tools provide sales reps with access to sales collateral, product information, and content that can be used to support their sales efforts.
4. Lead Generation and Prospecting Tools
These tools help identify and collect potential leads and prospects, making it easier for sales teams to target their efforts effectively.
5. Sales Analytics and Reporting
Software that provides sales teams with data-driven insights and performance metrics, allowing them to track their progress and identify areas for improvement.
6. Sales Automation Tools
Automation tools can help streamline repetitive tasks, such as lead qualification, data entry, and appointment scheduling.
7. Sales Training and Onboarding Platforms
These tools assist in B2B sales training to new sales reps and ongoing professional development.
8. Proposal and Quoting Software
Tools that enable sales teams to create and deliver customized quotes and proposals to prospects.
Let's understand the importance of using B2B sales software through its benefits.
Key Benefits of Using B2B Sales Tools
Using B2B (Business-to-Business) sales tools can bring a multitude of benefits for companies looking to enhance their sales processes and improve overall efficiency. Here are some key advantages:
1. Improved Productivity
B2B sales tools streamline repetitive tasks, automating various processes such as lead generation, email campaigns, and follow-ups. 
This allows sales teams to focus on more critical aspects of the sales process, leading to increased productivity.
2. Enhanced Lead Management
Sales tools often come with CRM (Customer Relationship Management) functionalities that facilitate lead tracking, organization, and prioritization. 
This enables sales reps to manage their leads effectively and avoid missed opportunities.
3. Better Sales Intelligence
Many B2B sales tools offer data analytics and reporting features that provide valuable insights into customer behaviour, preferences, and sales performance. This information can help sales teams make informed decisions and tailor their approach to individual prospects.
4. Personalization
B2B sales tools can assist in delivering personalized content and communications to prospects, helping build stronger relationships and boosting the likelihood of closing deals.
5. Faster Sales Cycles
With automated workflows and smoother lead management, B2B sales tools can accelerate the sales cycle by reducing manual processes and decreasing response times.
6. Collaboration and Communication
B2B sales tools often facilitate collaboration between team members, allowing seamless communication, data sharing, and task assignment. 
This fosters a more cohesive and efficient sales team.
7. Targeted Marketing
Sales tools can help identify the most promising leads and target specific industries or segments with tailored marketing strategies, increasing the chances of conversion.
8. Competitive Advantage
By leveraging the latest B2B sales tools, companies can stay ahead of their competitors by being more agile, responsive, and customer-focused.
9. Scalability
Many sales tools are designed to accommodate growing businesses, making it easier to scale operations and handle larger customer bases without compromising efficiency.
10. Customer Retention and Upselling
Sales tools can help maintain strong customer relationships through automated follow-ups, nurturing campaigns, and timely engagement, leading to increased customer retention and opportunities for upselling.
In short, B2B sales tools offer numerous advantages that enable businesses to optimize their sales processes, foster better customer relationships, and ultimately achieve higher revenue and growth.
Criteria for Selecting B2B Sales Software
Before delving into the top B2B sales software solutions, it's essential to understand the criteria for selecting the right tools. 
Scalability is crucial for accommodating business growth, while integration ensures seamless data flow between different systems. 
User-friendliness enhances adoption rates among sales teams, and cost-effectiveness optimizes return on investment.
Now, it's time to know the best 12 B2B sales tools of this year.
Top 12 B2B Sales Tools
1. Crystal
Good communication is always crucial to convert positive leads into final customers. 
To conquer this hurdle, Crystal is providing great features to enhance personalized communication with each unique customer as per their personality. 
With the help of the chrome extension of Crystal, you can recognize your customer's personalities through their social media profile. 
This feature is so good to predict which approach is best to impress your prospect and what offers are best enough to attract them.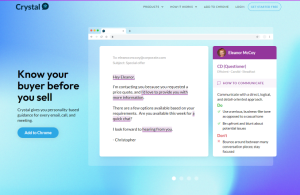 Moreover, Crystal will send you a suggestion by recognizing your customer's profile to send marketing emails or initiate a sales call.
Crystal is dedicated to providing more personalized communication with every prospect to increase your number of sales. 
2. LinkedIn Sales Navigator
LinkedIn Sales Navigator is a great choice for you if you are planning to sell your product through social media platforms. 
This sales tool is all about finding information of potential customers through Linkedin to boost sales revenue.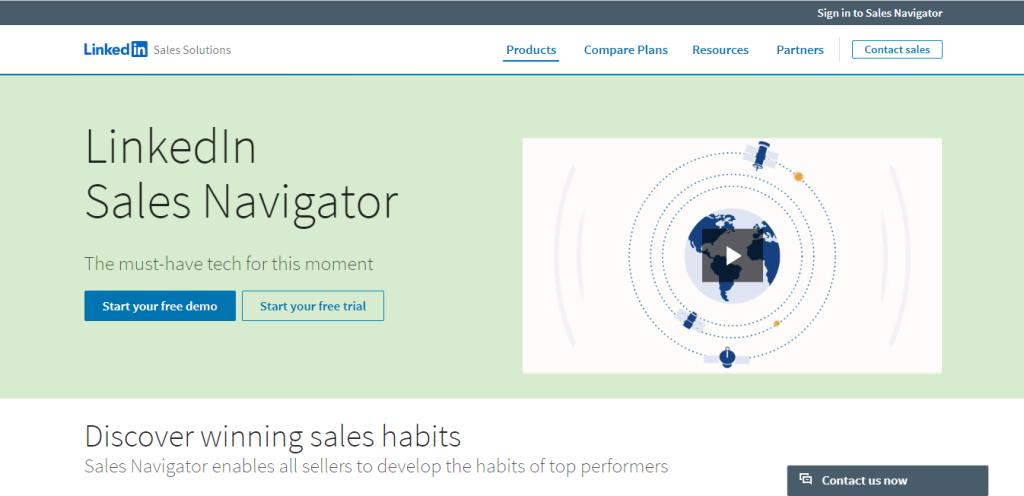 For Example, the advanced lead and company research will give you a functionality of identifying 1000 customers as per your search criteria. 
If you want to add some filter features like company size, seniority, years of experience, and more to check out the best prospect for your sales. 
LinkedIn offers a feature named "Who's Viewed Your Profile" that will help you to list out people who checked your profile and might be interested in your product, you can save their details for further contact. 
Apart from that, this B2B sales tool will recommend leads from your past contact or interactions on the basis of your sales priority. 
Also, LinkedIn Sales Navigator can easily integrate with your CRM software to share information from LinkedIn to CRM and vise-versa. 
All this says, Linkedin is a great B2B sales tool which helps you to find out leads from millions of professionals. 
3. Salesforce
Salesforce is one of the pioneer CRM tools, and helps businesses to streamline their customer contact. 
This sales software allows you to record your contact details from marketing data and makes you track all your interactions with them. 
The contact overview enhances communication between the marketing and sales teams. 
A contact's position in the sales funnel may also be seen by your sales team, who can then carry out customized actions to close those connections.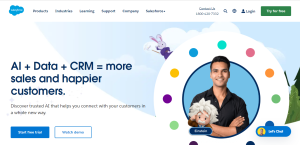 In addition to this, Salesforce has tools for managing customer contracts that may be used to specify contract terms and conditions and make sure clients follow them.
By designating them to the appropriate departments, sales representatives will be able to produce estimates and handle orders with ease.
You can create a visual pipeline with Salesforce, get precise information about your leads, and manage your lead flow and chances to close more sales.
4. HubSpot
HubSpot is a powerful piece of software that includes CRM, sales, and marketing tools. With HubSpot, you can pinpoint businesses to contact in order to increase sales based on their website activity.
You can see the visitors and the pages they are seeing in addition to the companies.
When contacting your leads, you can set up automated sequences that, when a lead triggers them, send emails or remind you to call.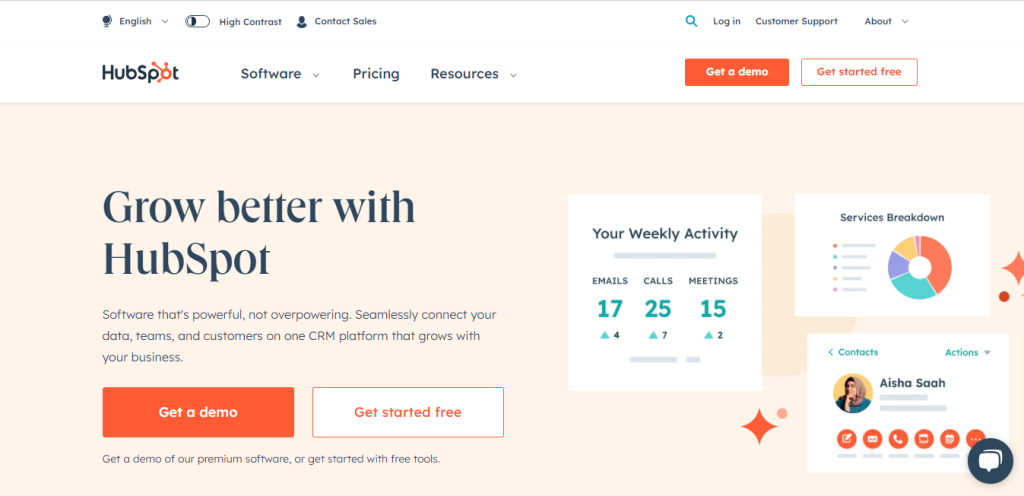 You could require a meeting to close your leads after reaching out to them. 
Your calendar is connected to HubSpot Sales, allowing you to schedule meetings and notify prospects. 
The activity gives information about your most recent lead activities if you want to see them. As a result, you can utilize the data to guide the subsequent stage in closing the deal. 
To help find the best leads and engage with them to convert them, HubSpot offers sales tools and a CRM system.
5. Saleswhale
How much time do you waste on prospects who don't end up converting? An AI assistant named Saleswhale interacts with and qualifies leads at scale.
Your AI bot will converse with your leads after tailoring it to assess their suitability for your sales staff to pursue. 
When Saleswhale recognizes a lead as a hot lead, it sends the lead to your sales representative for further action.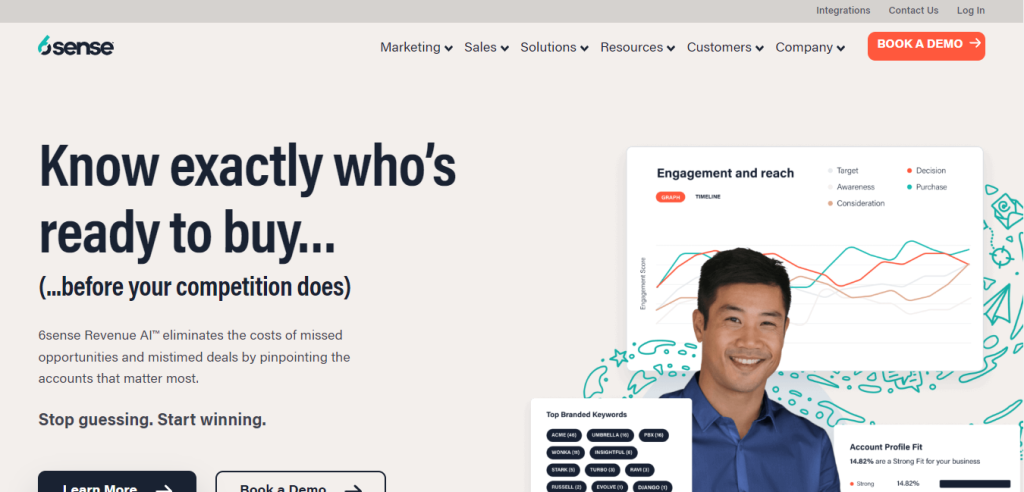 Even then, Saleswhale keeps track of these leads by reminding your sales staff to follow up. 
Additionally, this application enhances communication between the marketing and sales divisions.
Saleswhale monitors the activity of sales representatives to demonstrate how well they convert your hot leads. This tool cuts down on time spent on leads and speeds up the process of closing sales.
6. Highspot
You'll find Highspot essential given how crucial content is to sales. This sales enablement platform manages material at various phases of the sales process using artificial intelligence.
Highspot suggests articles of content that are most likely to appeal to a specific prospect. 
You may use the majority of content kinds for your website, emails, and social media postings because more than 40 different content types are supported.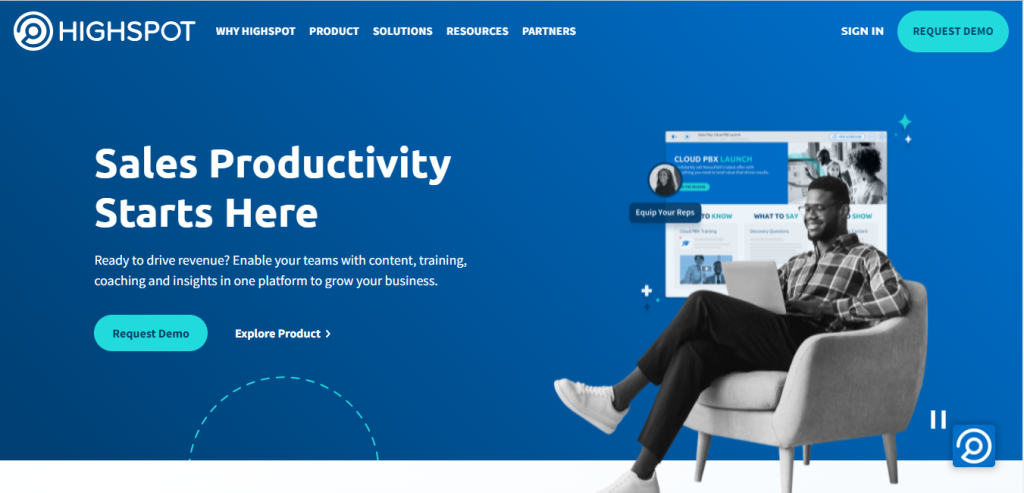 Additionally, the application instructs and advises sales representatives on how to behave in various sales funnel segments. 
Highspot analytics offers information about the material that your sales team employs and how each piece of content affects your sales.
This tool will assist you in getting the greatest outcomes for your clients and your agency if you manage a content marketing firm.
7. Mixpanel
Your sales figure can increase if you have accurate data regarding your sales process. And this is what Mixpanel provides.
Mixpanel offers insights on user behaviour on your website and mobile applications. 
You can learn more about your power users, popular features of your products, and user behaviour that encourages long-term retention from these statistics.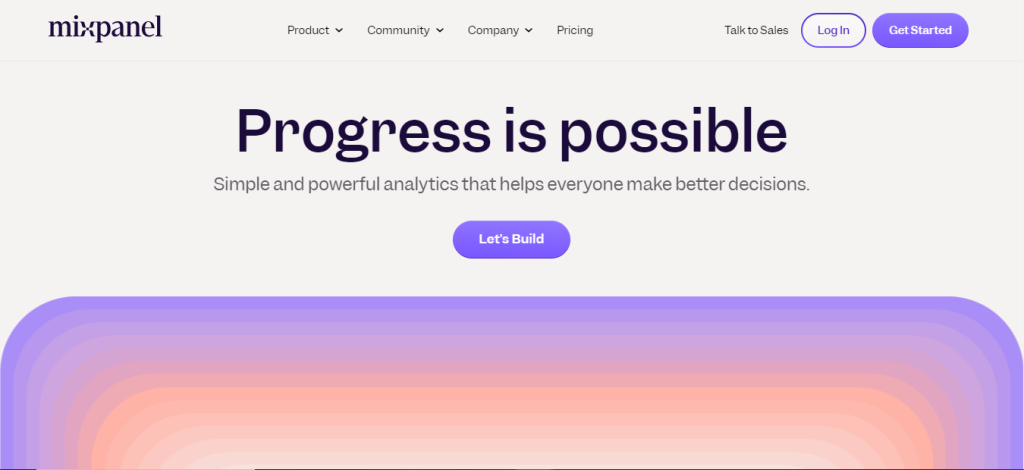 In addition, you can observe the user behaviour flow for your items or website. Do they lapse more frequently on specific pages? Do users stay on a page longer?
You can view group analytics based on your metric in addition to individual data. This can depend on an account, a device, or something else. 
With Mixpanel, you can learn why some users are kept around while others are at risk.
8. SalesLoft
The key to boosting sales is improving consumer involvement and relationships. Your sales team may accomplish these goals with the aid of the tools that SalesLoft offers.
SalesLoft automatically provides leads to sales representatives to speed up the sales process. 
Your team can also tailor sales emails and other forms of communication to better engage with prospects and clients.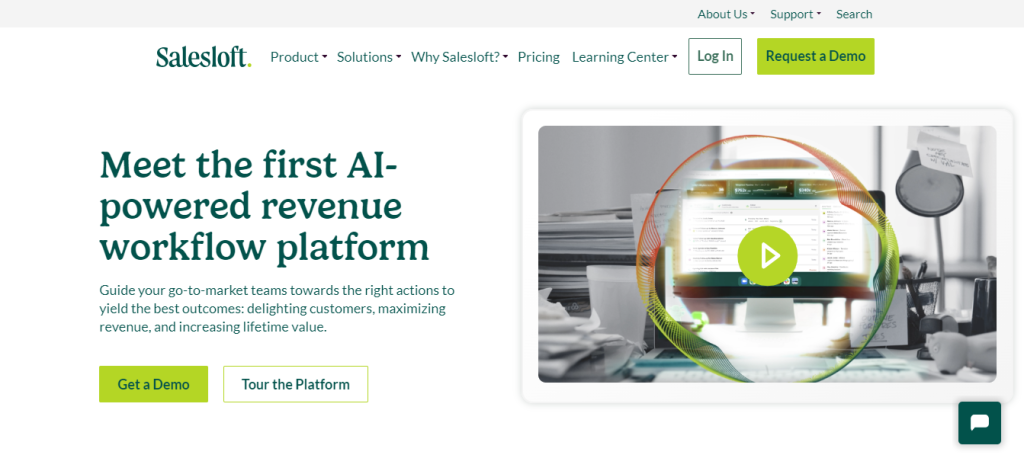 Similar to how it notifies sales representatives of engaged contacts, SalesLoft enables you to advance the conversation farther down the sales funnel. 
With the aid of efficient prospecting, SalesLoft enables you to create sales funnels. You can also handle deals and look for chances to turn prospects into clients.
In order to increase its communication possibilities, SalesLoft connects with CRM and email marketing software.
9. Upland Altify
An enhanced intelligent customer revenue optimization tool called Upland Altify directs your sellers on what to do at various points in the sales process. You may enhance your sales effectiveness by integrating Altify with Salesforce CRM.
The access to the account manager, opportunity manager, and sales process manager on Altify is allotted to you.
You may more effectively qualify leads with the opportunity manager so that you can focus on those who are most likely to become clients.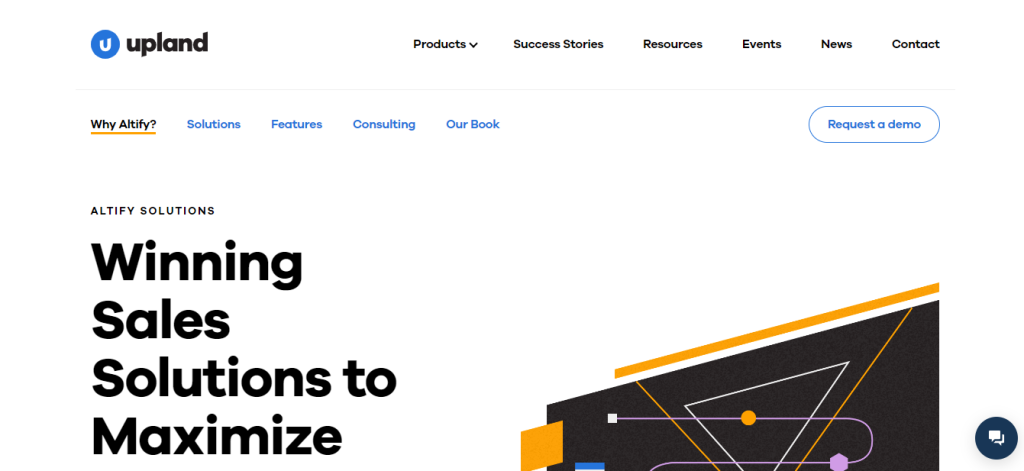 Your sales team will follow a standardized procedure under the direction of the sales process manager, which will increase the likelihood that they will convert prospects. 
Sales representatives can also view a summary of the deals and pipeline. This aids in identifying and removing sales-related hazards.
You can also receive a summary of your accounts and learn why prospects choose to use your product.
10. Reply
The best email marketing campaigns may be executed with the aid of Reply, a sales engagement platform, to help you close more business. 
You may search for and add business emails from LinkedIn to sequences using its Chrome extension.
You can use Reply's verified partner services in addition to LinkedIn to locate more qualified prospects. 
Following this phase, you can contact your prospects using a variety of methods, including LinkedIn, emails, phone calls, video chats, and more.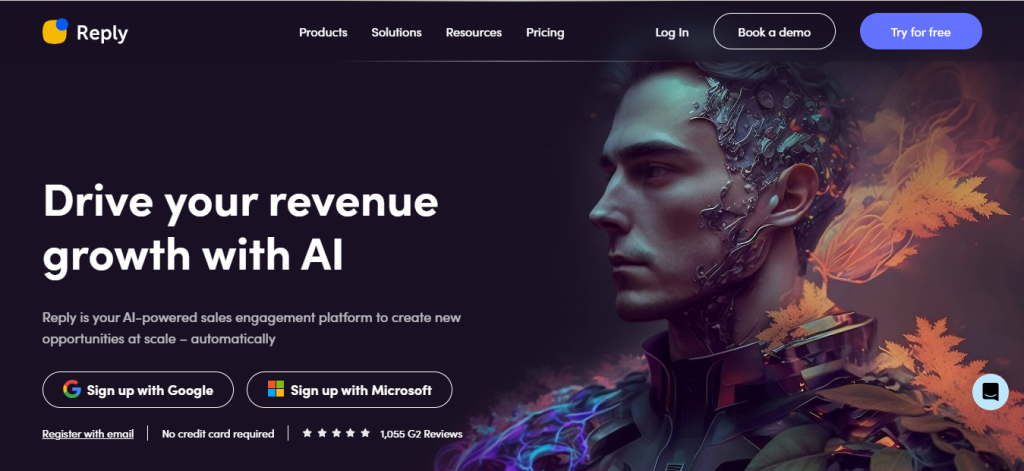 In a similar vein, you can build sequences and run A/B tests to increase conversions. 
Reply offers comprehensive contact management that displays your most recent interactions with a contact. Additionally, you can divide up your contacts based on various factors.
Reply enables productive teamwork throughout campaigns so you can raise the likelihood of success. 
Finally, Reply's reports and analytics give you information about the effectiveness of your teams and sequences.
11. Autoklose
A sales engagement software called Autoklose provides email automation and B2B data to speed up deal closing. 
You can obtain B2B leads in a variety of industries using the tool's enormous database, and you can further refine your leads using different criteria.
The next step after getting leads is to engage them with tailored email sequences. Of course, you can also use your current subscriber lists.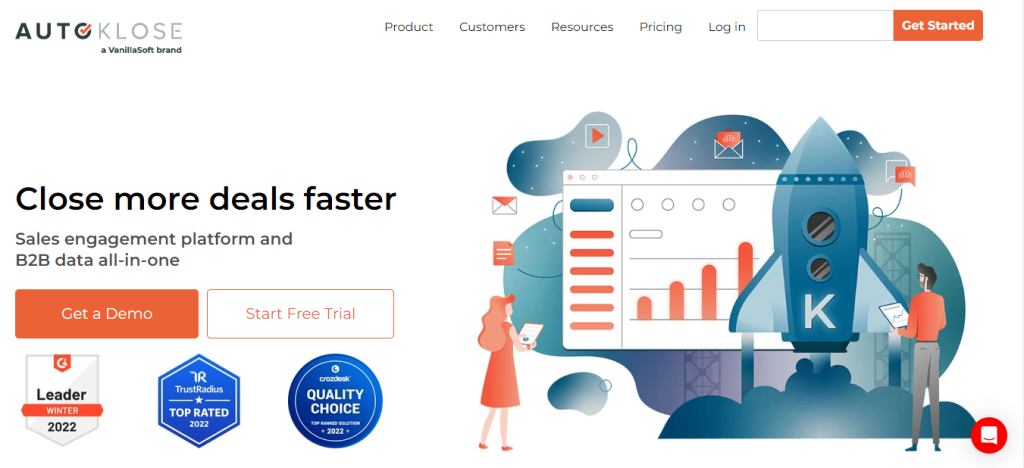 You can customize the campaign templates on Autoklose to suit your needs. Autoklose automatically validates your subscribers' email addresses and deletes the spam emails to prevent email bounce.
You can monitor your email marketing KPIs, including opens, clicks, replies, bounces, and more, with the real-time reporting function. 
To round up Autoklose's features, you can combine it with other applications including your CRM program.
12. Clari
It can be challenging to forecast your company's income because different marketing forces operate at various periods. 
Fortunately, Clari makes sales projections for a specific period using artificial intelligence, your marketing data, and historical income information from several sources.
Clari can make projections for every region, channel, product line, and even sales rep in addition to generic sales estimates. 
Additionally, you may control your pipeline so that you can monitor the progress of your transactions.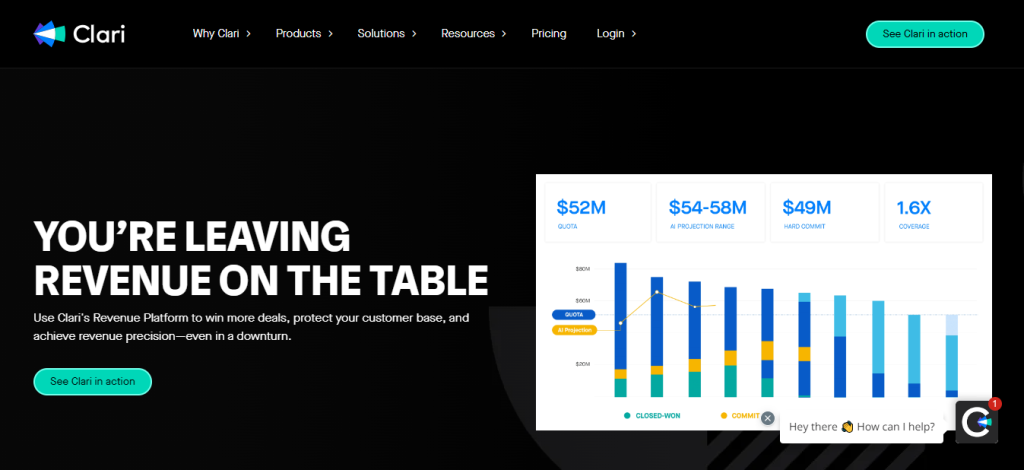 You can make changes where necessary to meet your sales estimates thanks to pipeline management. 
Clari also assigns opportunity scores to your contacts according to how probable it is that they will make a purchase.
Sales representatives can view the marketing and sales efforts connected to each deal using revenue intelligence.
Want to learn some tips for getting positive results from B2B sales tools? Then, check here.
Tips for Implementing B2B Sales Tools Successfully
Implementing B2B sales tools successfully requires careful planning and execution. 
To ensure a smooth transition, businesses should involve key stakeholders, provide comprehensive training, and set realistic goals for tool adoption. 
Additionally, regular evaluations and feedback loops can help fine-tune the implementation process.
Conclusion
In conclusion, leveraging the right B2B sales tools is essential for optimizing sales processes and achieving business growth. 
With a wide range of software solutions available, businesses must evaluate their specific needs and choose tools that align with their goals.
Embracing innovative B2B sales software empowers sales teams to drive better results and create lasting customer relationships.
HAVE A GREAT SALES REVENUE WITH SALES TOOL!!!
Frequently Asked Questions (FAQs)